Lean, mean, Japanese cuisine all around Port Washington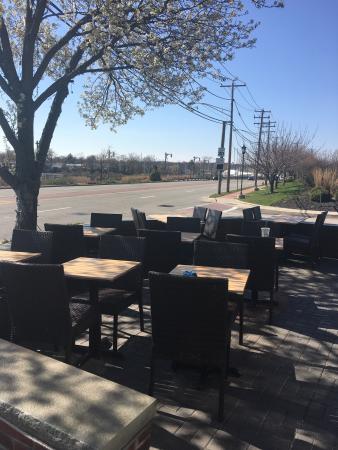 Port Washington is well known for its versatile selection of restaurants:  Mediterranean cuisine, famous pizza chains, and Asian fusion.  In fact, many travelers come to Port to experience all of the excellent food that our town has to offer.  
For example, Asian restaurants such as Bonsai, Nikkei of Peru, and Aki have exceptional menus and service that have many from outside of Port returning for more.
Bonsai is a modern Japanese restaurant located in the heart of main street.  The exterior of the restaurant is influenced by classic Japanese design, with vibrant red lanterns hanging from the roof, adorning it entranceway.  
Inside Bonsai, customers have the choice of sitting at a table, the sushi bar, or a traditional booth.  The restaurant's menu has an array of diverse food options, including bento boxes, tempura, and unique sushi rolls. 
"I remember when we were little everyone had their birthday parties at Bonsai because the booths were so fun and we could take our shoes off," said junior Amanda Hillman.  "I still really like the food even though I don't feel the need to eat barefoot anymore."
Although Bonsai does attract children, they still have a sophisticated menu that is made for people of all ages.  This characteristic is also applicable to another favorite in Port Washington: Nikkei of Peru.
The design features indoor-outdoor seating, with both providing customers an almost picture-perfect view of the Long Island Sound.  This Asian fusion restaurant pairs its flavors with Peruvian cuisine. 
"I love to come to Nikkei because of the scenery.  There are only so many places in Port where I can go enjoy a nice meal while looking at a great view simultaneously," said sophomore Kate Steigman.  
The perfect combination of tasty food and an amazing view makes this restaurant a top choice for many adults and high school students alike.  The elegant ambiance inside the restaurant creates a soothing setting, making it a great place to have a nice quiet dinner for families and friends who want to simply talk and unwind.  
The perfect combination of Latin-American and Asian cuisine makes Nikkei place truly unique.  You can enjoy the classic Japanese favorites, such as sushi rolls and dumplings, while also savoring Latin-American-inspired taco bites. 
In the end, Nikkei of Peru may be a new restaurant in Port, but it has quickly grown into a town favorite for many citizens.
Lastly, Aki on Main Street is another popular go-to. The indoor decor is dark and beautiful, but not overly fancy; this combination of location and enticing architectural design and decorations makes for the perfect after-school meal for any student looking to take a well-deserved break.
Furthermore, the enormous selection of delicious appetizers and small plates, from shrimp hibachi to Snow Maki, makes Aki ideal for a group of friends looking to have a meal to share.  
"Aki is so delicious.  I'm obsessed with their rock shrimp tempura and my friends like the fried rice, so we just order a bunch of plates and all share. It's also in the perfect spot in the middle of town," said junior Sarah Hersh. 
These are just some of the plenty delicious restaurant options in our town.  To start the new year off right, try one of these places for a Schreiber Times approved savory meal.