How to warm you cerebral cortex during the polar vortex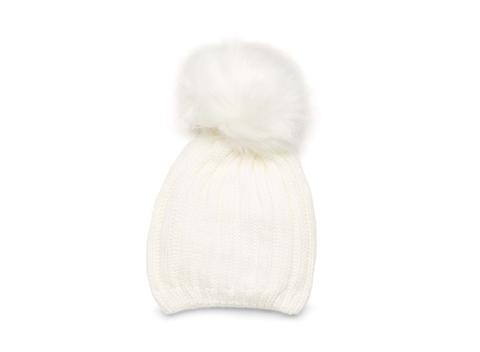 Lucy Barr, Contributing Writer
February 15, 2019
With the below-freezing temperatures and real-feel temperatures dropping below zero this winter season, it is essential to bundle up to keep warm.  Wearing hats not only provides us with the opportunity to make a fashion statement, but also protects us against the harsh cold weather.  Whether it be a classic beanie or a bolder choice of fur cap or pom pom hat, hats have the potential to make an outfit more sophisticated or fun. 
This winter season, one of the most popular trends are pom pom hats. With the base of a beanie, they offer the warmth and coverage of a typical hat with the addition of a bold poof.  These hats come in several different variations and options, with various patterns, colors, and even some with multiple pom poms being available. However, the classic pom pom hat in a black, white, or nude color seems to be the most popular design locally. 
"Pom pom hats are very trendy right now," said freshman Sophia Sfiroudis.  "You can get them in so many colors to match any outfit and they have great wear, making them wearable for many years." 
Prices vary for each type of hat depending on the brand.  On the more expensive side are the Moncler hats, selling a knit wool cap with fox fur pom pom hat for upwards of $300.  The popular French-Italian clothing company sells these hats at most department stores, and they come in 12 different colors with the iconic Moncler logo in the front center.  While these hats are certainly warm and cute, the price can make them out of reach for many high school students. 
There are several other more affordable brands that offer just as warm and fashionable hats while also having a cheaper price.  One popular brand is Calvin Klein, which sells the classic pom pom hat ranging from $40 to $42 depending on the specific design of each hat.  Even cheaper is the North Face hat, which offers prices ranging from about $28 to $35 per hat.  Furthermore, Steve Madden offers yet another alternative hat, called the H-Fuzzy, for $24. 
"My favorite brand to buy hats has to be Steve Madden. I have the H-Fuzzy hat in ivory and it's so soft and warm," said freshman Raina Persaud. 
These pom pom hats are almost guaranteed to be sold at any clothing store given their popularity.  In fact, most colleges sell customized ones, which a lot of seniors tend to buy once they commit to college. 
Regardless of the specific style preferred, given the weather in Port Washington lately, a pom pom hat is a must-have to survive the winter. 
"Hats are the perfect snow accessory and they look so cute when you go sledding or take snow pictures," said freshman Ashley Cohen. 
Although it is evident that hats are great for staying while while hanging out outside and participating in winter sports, like skiing or sledding, most people do not wear hats to school on a daily basis.  The warmth hats bring is arguably not worth the dreaded "hat hair," explaining why most students aren't seen wearing hats on their way to school each morning.  
Despite this one drawback of hats, their countless advantages make them a key purchase to make this winter. 
While walking around town, you may begin to notice the amount of pom pom hats and appreciate the variety available.