Hopping sushi scene enters Port with never before seen flair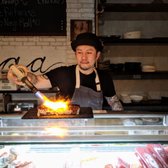 In the recent months, yet another sushi restaurant has opened its doors in our town.  Tiga, a small Japanese restaurant located on Main Street, has an innovative take on traditional Japanese dishes presented in small plates intended for sharing.  
With eight other restaurants in town already serving sushi (Aiko, Aki, Hana, Bonsai, Yamaguchi, Nikkei, New Garden and iDiner), one would think that it would be difficult to open a restaurant unlike the others. However, the style and decor combined with the service and high-quality products of Tiga sets this restaurant apart from the rest.
The space is small and its tables are limited, and the layout creates three distinct eating experiences.  The dark walls and wooden tables complement the light accent colors and exposed brick throughout the restaurant.  The space resembles a cool Manhattan inspired restaurant, yet it's located right here in Port Washington.
Towards the entrance, there is a large communal table surrounded by a mixed assortment of benches and chairs where either large parties can sit or smaller ones can sit together.  In the middle, there is a grand sushi bar where people can sit around on sleek tall chairs.  Lastly, there are a few tables in the back that can accommodate smaller groups who wish to dine on their own.
"I have only been to Tiga once, but I loved the sushi rolls and appetizer options," said junior Sally Hirschwerk.
The head chef Roy Kurniawan has been running multiple sushi restaurants in the area since 2006.  His first spot on Long Island was a restaurant called Sea Cliff Coffee Company, which on the weekends was transformed into Sea Cliff Sushi Company.  
After that, Kurniawan worked at Bennett's Sushi & Lounge in Locust Valley and later Wansuapona Musu in Sea Cliff.  His extensive experience in the sushi restaurant industry is evident, and has led to his grand opening of Tiga this year.
Kurniawan's food is a blend of classic Japanese sushi and sashimi with a hint of Indonesian flare, which comes from his Indonesian roots.  The majority of the unique menu is intended for sharing so the chef and servers recommend trying a few different items from each of the categories listed.
The menu is divided into soups and salads, cold dishes, and hot dishes.  Notably, the spicy lobster miso soup, yellowtail sashimi with jalapeno, and their signature Chilean sea bass with shiitake mushrooms, asparagus, coconut-lemongrass foam in a dashi consommé are favorites amongst diners.
Additionally, both sushi and sashimi can be ordered a la carte or in one of their 15 signature rolls.
"We waited for a while, but the wait was well worth it. I ordered one of the specialty rolls and it was great," said junior Adam Salzman.
The rolls appeal to adventurous eaters, with one including tuna, yellowtail, avocado,  jalapeno, mango, sriracha, topped with albacore, shaved bonito, tobiko, scallion, and sweet chili.  Tiga even offers a fish sandwich, with spicy tuna, avocado, furikake, and topped with tobiko.
Tiga is certainly making its mark on Port Washington and it's exciting to see the unique flare that it is adding to the town's sushi scene.