After watching Us, you'll be sitting on the edge of your seat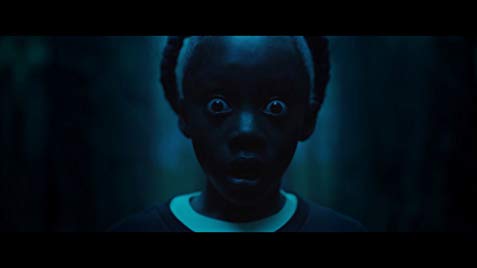 It has been two weeks since Jordan Peele's Us premiered in theaters, and the thriller film has already made hundreds of millions of dollars.  The terrifying movie has left audiences wanting more, giving them nightmares and leaving them with unanswered questions.
Lupita Nyong'o, who plays Adelaide Wilson, and her tethered counterpart Red stars in the film.  The film follows Adelaide's family trip to the beach, which becomes more of a nightmare than anything else.
"Us is the scariest movie I've ever seen, but it was so good," said sophomore Abbie Garfin.
The film has received positive reviews, leaving audiences utterly stunned and fascinated.  However, director Peele isn't just in it for the ratings.  Each of his films has a lesson or underlying ultimate message that he attempts to get across to viewers.
For his first film, Get Out, Peele emphasized the continued racism plaguing the world today, and the struggles that African Americans still face today.
Peele had a different approach with Us. Through this film, Peele warns viewers about the true evils in the world.
"The movie's about maybe the monster in you," said Peele.  "It's about us, looking at ourselves as individuals and as a group and it felt like at the end of the day, I wasn't doing my core theme any justice if I wasn't revealing that we have been the bad guy in this movie."
Us also contains hilarious amounts of ironic Easter eggs.  For example, in one scene, Peele's character Dying Rabbit is dressed exactly like Jack Nicholson's character from The Shining.
Peele admittedly organized every scene precisely, just as the director of The Shining did many years ago. This makes fans ache to study each little detail closely, desperately trying to figure out the meaning of every piece.
Both films also make use of the concept of identical twin girls to add a terrifying effect.  In addition, towards the beginning of the movie, young Adelaide purchases a Michael Jackson Thriller shirt, in which Jackson is wearing a red jumpsuit and a white glove, mirroring the uniforms of their enemies.
Furthermore, the number 11 is repeatedly brought up in the movie, relating to the Bible verse Jeremiah 11:11: "I will bring evil upon them, which they shall not be able to escape."
 These Easter eggs are an enormous part of the addicting affect that Us has had on viewers.  With almost record high ratings, this thriller has proved to be a cultural phenomenon, highlighting the evils in the world and providing jaw dropping surprises.