Phillies hope to take big leap after eventful offseason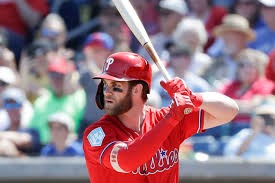 At the conclusion of the 2018 Major League Baseball season, many Philadelphia Phillies fans wondered about what could have been.  After a very good start to the 2018 season, the team sizzled out to a mediocre 80-82 record.  While it seemed like most of the pieces were in place to continue to make a run into 2019, the offseason was filled with trades and signings, during which the Phillies bolstered their roster to one of their best teams in recent memory.
Prior to the start of spring training, the Phillies made a fleury of near-blockbuster trades that showed their intention of restructuring the roster in order to have a "win now" mentality.   The quick trade for Seattle Mariners shortstop Jean Segura immediately turned heads, as it meant sending first baseman Carlos Santana on the way out.  However, the move showed that the Phillies meant business.  Next came the resigning of Cy Young runner-up Aaron Nola.  Nola, who is in his mid-twenties, is one of baseball's best young pitchers, and is a key piece for the Phillies entering this season. 
"Before we even reached Spring Training, it was obvious the Phillies were makings some serious moves and trying to compete," said junior Justin Tawil.
Segura, who hit over .300 last season, will look to play a major role for the team this year.  At an older age of 29, he knows that the team is looking to win now, with that certainly appearing to be the plan for Philadelphia going into this year's campaign.  
With a few solid moves already complete, the Phillies completed the biggest transaction of the offseason when they signed former Nationals outfielder Bryce Harper to a 13-year deal worth $330 million.  At the time, it was the biggest deal in baseball, though only days later Mike Trout shattered Harper's short time record.  Besides the large sum of money involved, Harper brings a new, franchise-changing player to Philadelphia.  The former MVP is looking to bring a new excitement to Philadelphia and to turn the franchise around for good.  After a year where the team seemed so close to competing, Harper looks to be the player that can bring the team over that hump.  Paired with veterans like Segura and former Pirates outfielder Andrew McCutchen, the team looks to have serious assets in place to make a run. 
"I was very surprised to see Harper go to the Philies.  I expected him to sign earlier in the offseason, but it is clear the Phillies can be baseball's next powerhouse with a move like that," said Tawil.
That is beginning to look like it could be a reality.  However, the team plays in a stacked division that includes the Nationals, who are always competitive, and new-look Mets, so the Phillies will face a difficult challenge to clinch the National League East title.  After this quick start to 2019, the Phillies sit at the top of their division just around a week into the season.  Harper looks to be fitting in well, hitting over .400 to go along with eight home runs during the first eight games.  One of the more iconic moments of Harper's short Phillies career was when he homered against his former Nationals to the screaming cheers of the traveling Phillies faithful.  If Harper can keep his play to the level it has been, the Phillies can be a very solid team in 2019 and a possible championship contender.  However, it is important to understand that in baseball, one offensive star cannot win you a World Series. 
Though Harper can provide Philadelphia a spark, he cannot single handedly bring a ring to Philadelphia, as it was seen in his Washington Nationals tenure.  The team must click on all cylinders to be successful.  They are young and inexperienced, but will rely on veteran leadership including Harper to bring them to the promised land.  When playing at their full potential, the Phillies can definitely become one of Major League Baseball's most dangerous teams.