The Helen Keller National Center hosts its annual run/walk
Organization raises awareness and money to support the disabled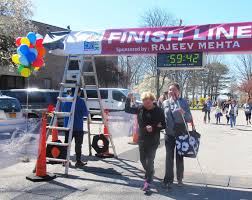 On Sunday May 5, the Helen Keller National Center for Deaf and Blind Youths and Adults held its annual five-kilometer walk.  Despite the rain, about 330 runners of all ages and abilities arrived at the Sands Point Preserve from 7:30 to 9:30 a.m. to support Port Washington's own HKNC, as well as compete in a USA Track and Field certified race.
Athletes could join or create a team, and non-runners could even partake as "virtual walkers," or sponsor active teams to help HKNC attain their goal of $70,000.  Attracting contenders from all over Long Island and out of state, this three-mile run was sponsored by the Peter & Jeri Dejana Family Foundation, a private independent foundation which services non-for-profit community organizations in Port Washington.
"I think it is a great way to fundraise for the Helen Keller National Center. It also raises awareness about people with hearing and vision disabilities," said sophomore Mia Schoonmaker.
This event has been occurring since 1996 and was designed to raise awareness of deaf-blind impairments, in addition to fundraise for the center.  The proceeds raised through registration went towards supporting the interests of local deaf and blind residents receiving instruction or living at the HKNC, including providing Support Service Providers (SSP) to those who require them.
SSPs are specially-trained individuals who translate auditory and visual information to people with seeing and hearing impairment.  Schreiber students were given an opportunity to learn about the importance of an SSP interaction when Marisol, a deaf-blind individual who works at HKNC, spoke in the school library with the assistance of two interpreters this past March.
Runners were registered under nine different age groups, and there was a bracket reserved for handicapped participants.  Awards were issued to the first overall male and female runners, regardless of category, and anyone who registered before April 10th were guaranteed a T-shirt in any requested size.
Refreshments were provided during and after the race by student volunteers helping out through the Schreiber Key club, as well as the Schreiber Boys and Girls Track and Field Teams.
Miriam Doherty was the first physically challenged individual to participate in the race, crossing the finish line in nine minutes and 18 seconds.
The winners for 2019's Helen Keller 5k Walk were William Lane, who finished with a time of 16 minutes and eight seconds, and Emily Benson-Tyler who finished in 25 minutes and 12.28 seconds.
"The Helen's Run was a great way to get some exercise and raise some money for a good cause along the way.  Even though it was raining, the volunteers cheering on the runners encouraged me to run faster and to finish," said Emily Benson-Tyler.
Helen's Run wasn't the only thing offered by HKNC this year.  Beginning this fall, students looking to become more involved with the Helen Keller National Center joined the Youth Club.  Students meet every month and they get to know blind and deaf students and residents, learn some sign language, play games, and get inspired by deaf and blind individuals who overcome their physical obstacles and are living their best lives.
The Youth Club's last meeting was May 15, but Deaf-Blind Awareness Week will be held from June 23rd to 29th, so definitely don't miss out if you're interested.