New Broadway musical that you must not miss: Jagged Little Pill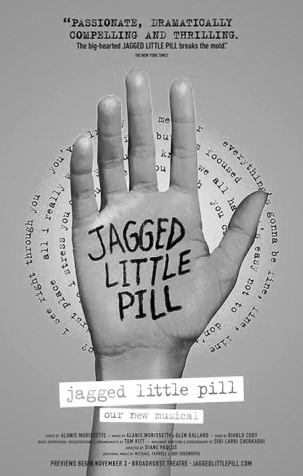 On Nov. 3, previews for a new Broadway show, Jagged Little Pill, started at the Broadhurst
Theatre. Jagged Little Pill focuses on what "perfect" really is, and how to live with your imperfections. It
describes a suburban family with two kids, one adopted. Each member in the family is struggling to find
their true identities.
The show stars Elizabeth Stanley, Kathryn Gallagher, Celia Rose Gooding, Derek Klena, Sean
Allan Krill, and Lauren Patten. Jagged Little Pill is based on Alanis Morissette's Grammy award winning
album Jagged Little Pill. The themes represented in the music are mimicked in the themes of the show.
Alanis Morissette's music is not only the inspiration for the show but it is some of the main songs in the
show.
"Jagged Little Pill strips away the picture-perfect veneer of a Connecticut family over the course
of a year and reckons with issues including gun control and opiate addiction," said Matt Cosby for the
New York Times.
Not only does the show have empowering music, but the show addresses real topics that are
relevant and meaningful to the world today. Some examples of complex themes that the show mentions
consist of drug addiction, gender identity, transracial adoption (the adoption of a child that is a different
ethnicity or race of the parents), sexual assault and image consciousness (when someone is very
concerned on how they come across to the people around them).
The family as a whole is very concerned about their image and looking like the perfect family.
They expect their kids to get good grades and look perfect as well. This musical targets the walls people
put up to hide their real emotions and feelings so they can look perfect on the outside.
"Everyone cares so much about being perfect and popular, but in the end that is not what
matters," said freshman Carly Fannous freshman.
Some of the cast are making their Broadway debut and others are not. Elizabeth Stanley was in
On The Town before coming to Jagged Little Pill, and Kathryn Gallagher was in Spring Awakening.
Derek Klena was in Anastasia, Sean Allan Krill was in Honey Moon in Vegas, and Lauren Patten was in
Fun House.
In addition, the set designer, Riccardo Hernandez, also designed the set for the 2017 Tony award
best play nomination, Indecent. He was also nominated in 1999 for best scenic design. His sets are
definitely a sight worth seeing.
Last year at the American Repertory Theater in Cambridge, Massachusetts, the show premiered.
"When I first heard about the show and listened to the music I was so excited because I grew up
listening to Alanis! She's one of my favorite artists, so hearing an entire Broadway ensemble sing songs
from her Jagged Little Pill album was so cool. I could tell that the show was going to be amazing and I
can't wait to see it" said junior Becca Packer.
Many people know the music and for some it brings them back to when they were first hearing
the album on the radio. The Broadway show, Jagged Little Pill, is an nod to living with our imperfections
and accepting them, too.