Rhythms of the Decade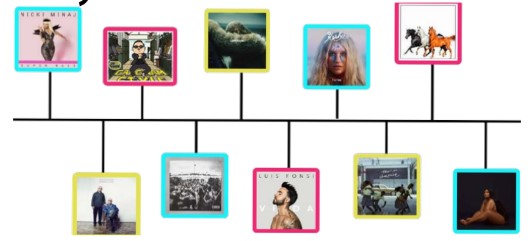 2010: Super Bass 
Nicki Minaj's "Super Bass" is one of the few songs that has the power to change the typical gender roles of the music industry.  As soon as it was released, the song quickly climbed to the top of the Billboard Hot 100. It peaked at number three in the U.S and New Zealand, and at number six in Australia and Canada.  The music video was released a year after the song's original release, and as of December 2019, the music video was viewed over 800 million times on YouTube. 
More often than not, male rappers are surrounded by women in music videos, asserting society's view of male dominance.  Minaj flips this in her music video, as she is shown surrounded by shirtless men while she performs. Before women like Minaj, female artists were taught to let men have the power in the rap industry and to just produce pop music or love ballads.  With "Super Bass," Minaj encourages women to embrace their sexuality, challenge the norms of the industry, and not allow men to tell them otherwise.  
-Lucy Barr
2012: Same Love
In 2012, the iconic duo Macklemore and Ryan Lewis–writers and producers of "Thrift Shop"–released the song "Same Love" with Seattle-based singer Mary Lambert.  After its release in February, it immediately received critical acclaim, ranging from The New York Times to The Rolling Stones, praising it as the decade's LGBTQ+ anthem.  In fact, the song was released during the judiciary decision of Washington Referendum 74.  This legislation was indicative of whether or not same sex marriage would be legalized in Washington state.  On June 12 of the same year the document received enough votes to be a part of the November general election, which it then won. 
Macklemore and Ryan Lewis performed the song on multiple platforms to raise more awareness not only for the song, but also for its message.  At the 2013 MTV Awards, the duo came onstage with Queen Latifah who officiated more than thrity-three same sex marriages throughout her career.  The cover art of the single was Macklemore's uncle and his husband, who were also featured in Youtube's Pride Week videos with "Same Love" playing in the background. 
While being released in 2012, the song remains relevant in recent cultural events.  For instance, the single gained popularity again in 2015 after the Obergefell v. Hodges Supreme Court case decision, legalizing same sex marriage nationwide. Following this, the Human Rights Campaign recognized this song and all it had accomplished for the LGBTQ+ community as a whole. 
-Emily Levine
2012: Gangnam Style
Despite never reaching the coveted number one spot on the Billboard Top 100, no song has had as great an effect on pop music as PSY's "Gangnam Style."  The South Korean pop song quickly shattered records, as it became the most viewed video on Youtube—it now stands at 7th—and reached number one in over thirty nations worldwide.  Additionally, the "horse dance," perhaps the most memorable part of PSY's one-hit-wonder, as it transversed all cultural boundaries and was performed by tennis player Novak Djokovic and—allegedly—former President Barack Obama.
It's extremely difficult to emphasize the magnitude of Gangnam Style's cultural impact.  The song unleashed a wave of interest in not only K-pop music, but Korean culture as a whole.  Furthermore, it inspired K-pop artists to turn outward and appeal to western audience. Prior to Gangnam Style's release in 2012, only one K-pop song reached the Billboard Top 100 in 2001.  Since then, over six artists and fifteen songs have made it on this list. Overall, we are likely to see K-pop's influence in America only grow, with artists such as BTS, CL, Pinkfong, and Blackpink entering the western arena. 
-Noah Loewy
2015: Alright 
Opening with Pharell Williams' signature four-count producer tag, "Alright" is the seventh track off of Kendrick Lamar's 2015 project, To Pimp A Butterfly.  This project, which was a dark commentary on the lives of African-Americans in modern day America, won a whopping five grammys and went Platinum in the United States.  "Alright" is a hopeful track in a serious and complex project, in which Kendrick declares that he will not let his troubles consume him, and that everything will be alright.  
This album, more specifically this song, represents an important shift in the way society viewed and continues to view hip-hop.  In the beginning of the 21st century, hip-hop and rap charts were dominated by gangster rappers like 50 Cent and Soulja Boy who were successful in the industry, but tarnished the reputation of rap music. Despite exceptions like Outkast, Jay-Z, and Eminem, the genre rarely received respect from serious music critics in the 2000's.  That all changed when Kendrick Lamar rolled around, as he brought in-depth, poetic writing that told a story and commented on social problems simultaneously. He has commanded respect from the music industry for not only himself but hip-hop as a whole. He may have won his Pulitzer Prize for his 2017 album, DAMN., but he proved himself to be a Pulitzer-level writer with "Alright."  
-Noah Sollinger
2016: Formation
Beyoncé is an international superstar and one of the biggest celebrities of the 21st century.  She has had countless hits, including "Halo" and "Crazy In Love," but arguably her most important track came in 2016 on her album Lemonade.  The project was subject to widespread critical acclaim, and eventually earned multiple Grammys.  Beyoncé even performed multiple tracks off this album during the Super Bowl 50 Halftime Show in front of millions of fans.  
The album's main single, "Formation," is a truly defiant track, and perfectly embodies the political climate of the country at the time.  Less than a year after Trump's rise on the political stage, the Women's March was held in cities across the nation, as millions of activists flooded the streets to display the power of the movement. "Formation" was the unofficial theme song of this march, as Beyoncé's powerful lyrics perfectly represented the movement's ethos. 
The "Formation" music video, also released in Feb. 2016, shed light on other topics, most notably racism and police brutality.  Beyoncé's depiction of these issues in the mainstream media led to the song's emergence as an anthem for a variety of other political groups such as the Black Lives Matter campaign and the black pride movement.  
-Leah Doubert
2017: Praying
The Me Too Movement: the floodgates opened and hundreds of women finally felt comfortable to share their sexual harassment stories.  While the term was officially coined in 2006 by social activist Tarana Burke, it was not until 2017 that the movement became widespread.  
In the wake of sexual harassment cases against Harvey Weinstein and Larry Nassar, women all over the country were inspired to come forward with their own truth.  This included famous singer Kesha, who released her song "Praying" to share her sexual harassment story. 
For four years, Kesha released no music and was in a legal battle with her record label because her producer, Lenny Letter, was sexually and verbally harassing her.  That was, until "Praying" was released in 2017: "Praying" is emotional, raw, and poetic. Kesha emphasizes her struggle in rising above adversity and refusing to allow Letter's actions define her as a musician, or as a person.  In the end, "Praying" is about the hopelessness and forgiveness that provided Kesha with "a strength she'd never known." 
Towards the end of the song, there are many voices that join Kesha in the chorus, reflecting the hundreds of women who shared their stories of sexual harassment after the beginning of the Me Too Movement.  This is Kesha's way of giving a voice to the voiceless, and inspiring others to feel strong enough to come forward. 
-Rebecca Charno
2017: Despacito 
When Justin Bieber famously heard Luis Fonsi & Daddy Yankee's "Despacito" in a nightclub in 2017, the Latin music culture in America was forever changed.  Prior to this point, Latino legends Daddy Yankee, Bad Bunny, and J Balvin were gaining popularity throughout Latin America, but had not caught the ears of listeners in the United States quite yet.  With Justin Bieber's remix of "Despacito," however, Latino music was launched onto the US's top charts. Since then, Latin-American music has been accepted more in the United States and continues to produce massive results on the charts. 
From Daddy Yankee and Luis Fonsi to J Balvin and Bad Bunny, Latino artists have grown in popularity and have used collaboration with American artists as a way to become more mainstream.  Since "Despacito," some of the other songs to hit the top charts include Daddy Yankee's "Con Calma" and "China," J Balvin's "Loco Contigo," which includes American rapper Tyga, and Bad Bunny's "La Cancion."  As the culture continues to grow, more and more Latin artists are entering the scene.  
-Zach Gitlin
2018: This is America 
In 2018, Donald Glover, more commonly known as Childish Gambino, displayed the powerful influence that music can have on society.  In his viral music video "This is America," Glover covered the controversial topic of gun violence and brought more awareness to the issue.  
He used symbolism in his video to reveal the harsh realities of living in America as a person of color.  The video depicts a shirtless Glover dancing, as he combined popular American dances with traditional African dances.  During the video, the viewers' eyes are drawn to Glover's interesting and abrupt movements, while in the background there are acts of violence.  The intention of the video, and of the song as a whole, is to shock the viewer and draw attention to an important issue in the country.  
The song reached number one on the U.S. Billboard Hot 100 and as of December 2019, the YouTube video has been viewed over 600 million times.  Childish Gambino was able to use his platform to bring awareness to major issues, showing the importance pop culture has on our politics.  
-Jacob Gottesman
2019: Old Town Road
"Old Town Road" written by Lil Nas X, a young black gay artist, is one of the few songs that had the power to gather the internet together.  What was originally once a Soundcloud rough draft, turned into No. 1 on the Billboard Hot 100 list; however, this was not without controversy.  After the song was released on Soundcloud, it became an instant hit on TikTok, turning into memes. Due to this viral attention, it appeared on the Billboard charts under both the Hot Rap Hip Hop songs chart and the Hot Country Songs chart.  However, that attention lasted only for a week before Billboard took it down because it "does not embrace enough elements of today's country music to chart in its current version."
At this point in the story, "Old Town Road" was no longer about TikTok and memes, but a larger racial injustice.  It represented a black artist's music thriving in a white majority atmosphere and his song getting silently removed by a large, influential organization.  Lil Nas X is high atop his horse, riding with pride as the unexpected hero of American culture in 2019.
-Amber Kakkar
2019: Truth Hurts
Accompanying "Old Town Road" as one of the most influential songs of 2019, is Lizzo's record-breaking "Truth Hurts." Despite being released in 2017, the song reached most of its chart peaks in 2019 with its re-release as a radio single. Prior to its success on the radio, the song gained viral attention through the new app TikTok. Because of its recent re-release, the song is eligible for the 2020 Grammy Awards, in which it is nominated for Record of the Year, Song of the Year and Best Pop Solo Performance.  
Lizzo's rise to fame this year wasn't only impressive in terms of the songs she released but also who she represents in today's music culture.  As a plus-sized, black female rapper, Lizzo is introducing and embracing a group of listeners who have been lacking representation in the industry. She commands any stage she steps foot on, playing the flute and offering inspiring speeches in between song medleys. 
She is recognized and applauded for her authentic character onstage and off. Her outfits are constantly being publicized for their unapologetic designs, accentuating her body and confidence. Lizzo is a modern day role model for young women and stands as a constant source of inspiration, showing that talent does not fit a specific mold; it can be celebrated by all kinds of people, regardless of color, size, style or gender. 
-Emily Levine