A brand new era: High School Musical the Musical the Series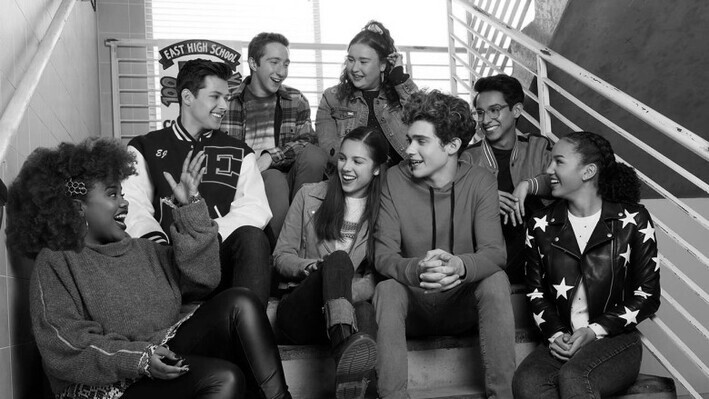 Abbie Garfin, Staff Writer
February 14, 2020
The new hit series, High School Musical the Musical the Series, is officially renewed for its
second season. Viewers have been raving about this amazing spin on the High School Musical movies
on the new streaming service Disney Plus. The show takes place in the same high school that High
School Musical was filmed at, as the drama club is putting on a production of High School Musical: The
Musical. Similar to High School Musical, the teenagers go between rehearsals and having their own
teenage lives with drama going on. The cast members of the school play experience similar situations to
what the characters in the original movie had to deal with.
"I'm obsessed with High School Musical the Musical the Series and I can't wait to watch season
2 when it comes out!" said junior Sari Hartstein.
The first season created many conflicts that the students were forced to face. They are able to
work through these hardships because of their passion and love for theater. These conflicts include their
teacher being accused of not actually being a teacher and her facing the risk of being fired. This makes
the group get even closer, and write and perform a song together that forces the board to allow their
teacher, Miss Jenn, to stay. Another difficult situation they are faced with is that the auditorium burns
down and they have to find a new location to put on their play, otherwise the show will not go on. The
members of the drama club are upset by this, so they do everything in their power to find a new location.
Even the cast of the show was shocked and thrilled that Disney Plus wanted to renew the show
for a second season. No spoilers have been released about the new season yet, but fans are eager to
get any new information. Sadly, the airing of this won't be happening too soon. Only ten episodes have
been released so far, and season 2 is set to begin in the fall of 2020.
"Seeing that even the cast is so excited makes me excited, and I'm sure many other viewers,
even more excited for the season to come out," said junior Emma Klein.
Disney Plus is using High School Musical the Musical the Series as a great way to entertain and
attract people who might not necessarily think of watching or purchasing the new streaming service.
Most of the people who were familiar with and enjoyed the High School Musical movies when they were
younger are in their teens or twenties, so this helps Disney Plus attract a crowd of older kids who loved
the movies growing up.
"I've loved High School Musical my entire life, but the spinoff is a little cheesy," said junior Avery
Silfin.
Many people share this opinion, being that the actors aren't nearly as good as the cast of the
original High School Musical, but they experience many realities that teens deal with in high school
today. Overall many people seem excited to watch another season, but others think there is not much
content left for Disney Plus to create.
For many of the actors, it was their first time being on TV, and this gave way to careers for some
of them. Many of them have expressed in interviews that this has given them the confidence to pursue
their dreams of being on Broadway or being a professional singer. Big Red, played by Larry Saperstein,
is from Long Island and even went to camp with some Schreiber students.
Although season 2 seems far away, it is right around the corner. Look out for the trailers as
filming has begun, because this is a show you will not want to miss.