College football world shaken up as the Big 10 returns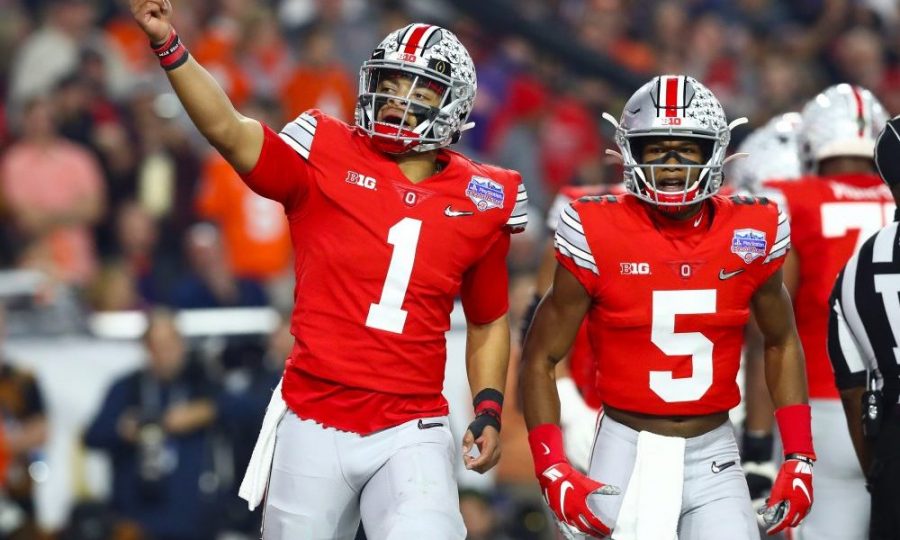 Ryan Epstein, Staff Writer
October 22, 2020
Five weeks of college football have already passed, yet the Big 10 and the Pac 12 have just decided that they are going to play this year.  The Big 10 said that they would start on Oct. 24., with a modified, eight game, conference-only schedule that is still going to finish with the Big 10 finals on Dec. 19.  The Pac 12 is starting two weeks later than the Big 10, and it will play six conference-only games, plus a conference final on Dec. 18. 
Football teams such as Penn State, Michigan, Michigan State, and Ohio State all have major disadvantages because they will all play four of the tougher teams in the conference due to this modified schedule.  In a normal season, Michigan might lose to Ohio State, but beat the weaker teams like Purdue, Northwestern, and Rutgers.  Any team with a shortened season must go undefeated to be highly seeded for the playoffs.
"Michigan is put at a big disadvantage because they are normally competitors for the Big 10 finals because of their easy non-conference games, but this year without them, they do not have the skill to beat other conference teams such as Ohio State and Wisconsin.  Even though Ohio State has a lower chance to make the playoffs because of the season's format, I think that they will go undefeated and win the championship," said sophomore Alec Goodman.
As the Big 10's season starts, many teams' rankings in other conferences will drop, and the Big 10 teams' rankings will go up.  The University of North Carolina is currently ranked number eight in the nation, which will drop significantly to at least the 15-20 spot.  UNC has  a very easy schedule, so one loss could potentially drop the team three slots in the ACC, or around ten slots in all of college football.  Another team that will go down in the rankings is Cincinnati.  Currently, the Bearcats are ranked number eleven, but they can drop when they play other highly-ranked teams like SMU.  Michigan is currently ranked twenty, and I do think that it will drop out of the top 25 because they are predicted to lose vs. Ohio State and Minnesota. 
While the Pac 12 never has extremely dominant teams, during this shortened season, they are put at an even bigger disadvantage.  The only team that usually has a chance at making the playoffs is Oregon, but due to the loss of its star quarterback Justin Herbert, the odds of making it are very low.  Because the Pac 12 has many weak teams, Oregon will most likely go undefeated, but may not be considered good enough.  
"The Pac 12 conference doesn't have any teams that are strong, so the winner of the Pac 12 definitely doesn't have that big of a chance to make the playoffs," said freshman Ian Mandelbaum. 
I do believe that Oregon's ranking will go up because of its easy schedule.  Currently, Oregon is sitting as the twelfth ranked team in the nation, but could easily move up into the top ten, once teams like North Carolina and Penn State move down.  Another team that could be positively affected by the conference-only games is Utah, which went 11-3 last year, and 8-1 in conference play, while losing by only two points to a tough Oregon team.
"The main team in the Pac 12 affected by the shortened season is USC.  The Trojans are commonly a top-25 team and look to make a potential college football playoff run this season. The dynamic duo of quarterback Kendon Slovis and wide receiver Amon-Ra St. Brown will have to make an immediate impact in the shortened season if the Trojans have any chances of making it to the playoffs.  With the Pac 12 playing less games, it will give the conference and teams less momentum and a weaker resume than others headed into the postseason," said junior Jasper Abrahams.