Should snow days exist remotely this upcoming winter? (Point)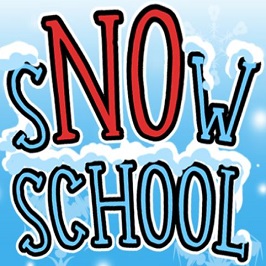 Since online learning commenced, there has been a big question lingering on many people's minds: should kids be forced to spend a snow day remotely during the depths of December and January?  New York City public schools have announced that there would be no snow days this winter, a decision that is ultimately coming soon for many districts such as Port Washington.  COVID-19 has caused many schools to alter the way they teach entirely, and many schools have gone fully remote.  If snow days occur, it would be much easier to go fully virtual.  
However, snow days should exist for many important reasons, one of which is for the sake of elementary students.  Nearly every former elementary student remembers waking up on a snow day, seeing the ground covered in a fresh layer of white snow, and squealing for joy that a day with no school was ahead.
"Snow days were a really important part of childhood," said French teacher Ms. Cherie Delio.
If snow days were replaced with online school, it would strip an important childhood memory from students.  Students should be allowed to put their minds at rest and build lasting memories, as opposed to cramming in assignments at home.  Almost all teenagers can vividly recall making a snow angel or making hot cocoa by the fire on a beloved snow day. 
"I think the kids would feel a little jealous because their snow days were replaced with online school.  Playing in the snow made me feel great as a kid," said freshman Sam Levine.
Snow days are not just for little kids; they can be for students of all ages and backgrounds.  Snow days are a great mental break when a student is stressed out or has a lot of homework to catch up on.  Many times a two day weekend is not enough rest, as students are assigned weekend homework, and they come in the following week feeling fatigued and fed up with the amount of work they have.  A break from an unbearable workload seems practical and neccesary. 
In a world with no snow days, students are forced to stay inside all day while having no positive outlook to channel negative energy.  Students are forced to decide between completing work accurately and on time, or feeling mentally and physically healthy.  This is a choice that no teenager should have to make. 
Snow days are not just for students; they are also for teachers.  Teachers need mental and physical breaks from the toll that wearing masks and teaching all day takes.  If a teacher has a lot to grade or has a personal matter to attend to, it could affect how well he or she teaches and focuses on the class.  In addition, teachers need to care for their own families, making it difficult to teach a functional class from home.  Furthermore, teachers need to shovel their driveways and do other tasks during the day that are necessary in order for them to drive back to school in the future.
Also, some areas of town are more vulnerable to power outages.  If one area's power goes out, then the students that live there would miss out on the lesson that was being taught during the livestream.  Online learning is already difficult for students and teachers, and the complication of power outages would make it even worse.
"If the power goes out, you can't do school," said junior Olivia Kerrane.
For millions of people worldwide, snow days have served as a positive experience.  Whether you spend the day watching holiday movies inside or building a snowman, an overwhelming number of people make memories for a life-time.  School days can be forgotten but the memories of a snow day may rest in our hearts forever.