Election 2020: On the Issues
Many historians, scientists, and elected officials have characterized this election as the most consequential of our lifetime.  In the current era of "Fake News," The Schreiber Times aims to provide accurate details on each of the major party candidates stances on issues directly affecting young people. 
According to Pew Research Center surveys, 30 percent of Generation Z approves of Donald Trump's actions as president.  According to a survey done by The Schreiber Times, 68 percent of the Schreiber student body identifies as  "slightly" or  "very" liberal, 75.5 percent thought Vice President Joe Biden "won" the first presidential debate, and 64.3 percent thought Senator Kamala Harris "won" the vice presidential debate.  Soon to be the newest generation of voters, 63.2 percent of Schreiber students consider themselves knowledgeable regarding politics and current events, a necessary tool for future voting.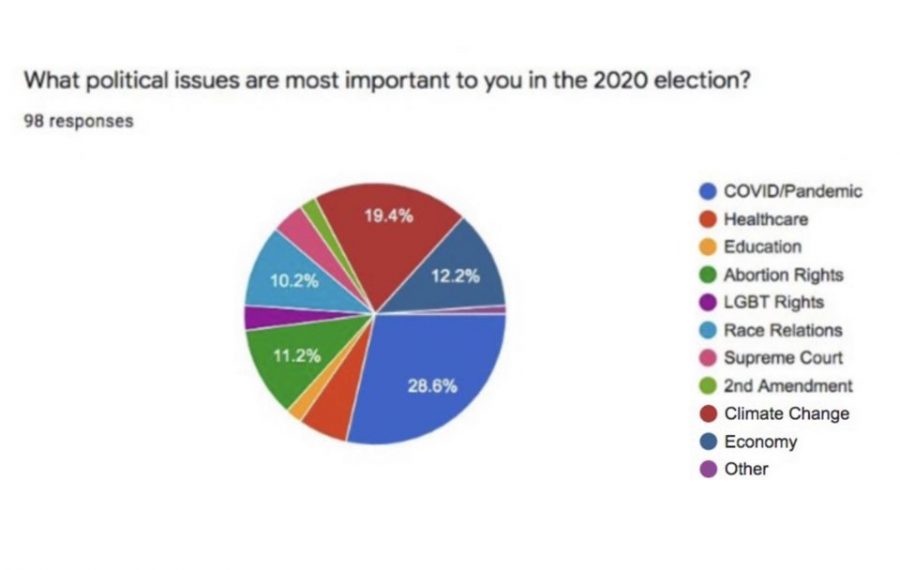 Education and College Reform
While education may not be the most divisive issue in the 2020 presidential election, there are ongoing debates about how to reform the public education system, stretching from preschool to college.  
Democratic nominee Vice President Joe Biden's education agenda includes partial student loan debt reimbursement, free college for families earning a gross income of less than $125,000 per year, and free pre-K-12 education.  His plan appears similar to the plans offered by Senator Bernie Sanders and other liberal Democrats who wanted to make college free for all.  Biden adopted many aspects of Senator Sanders' plan to appeal to the more liberal wing of the Democratic party and some younger voters.  
Research from Georgetown University estimates Biden's plan would cost $49.6 billion in taxpayer money in the first year, with the federal government paying $33.1 billion and states spending $16.5 billion.  Reports also show that after ten years, the program will roughly pay for itself because yearly tax revenues would increase due to free college education.  His plan would encourage students to earn a college degree, and this would lead to jobs that could generate $371.4 billion dollars in additional federal and state tax revenues.  The research also noted that enrollment in public colleges could increase by 6% to 14%, though private college enrollment could decrease as a result.  
On the other hand, President Donald Trump has a very different view of how to reform education.  Currently, Secretary of Education Betsy DeVos has focused the administration's efforts toward repealing the Obama administration regulations that were put in place to help students avoid predatory for-profit loans, as well as Pell Grants that were given to people in prisons for higher education.  
According to the National Association of Student Financial Aid Administrators, President Trump cut the Department of Education's budget as a whole in addition to many financial aid services.  His 2018 fiscal budget could cut $150 billion from federal student aid over the next ten years.  Since then, he has been working on cutting subsidized loans, eliminating federal work-study funding, and getting rid of public service loan forgiveness.  
"Too many Universities and School Systems are about Radical Left Indoctrination, not Education," tweeted President Trump regarding pulling tax exemption for colleges.  
In Aug., President Trump did sign an executive order to forgive all student loan debt for permanently disabled U.S. military veterans.  
Supreme Court 
Following the death of Justice Ruth Bader Ginsburg, the political parties began fiercely debating the future of the Supreme Court.  After the 52-48 hyper-partisan confirmation of Judge Amy Coney Barret on Oct. 28, 2020, the six GOP appointed judges hold a three-person advantage over the court's liberal wing, although Chief Justice John Roberts often functions as a "swing vote." The confirmation of Justice Amy Coney Barrett, an originalist and a devout Catholic, will reshape the landscape of America's highest court for generations.
The debate surrounding the Supreme Court primarily revolved around whether or not President Trump had the right to nominate Ginsburg's successor prior to the election.  Of the 19 election year vacancies where one party controlled both the Senate and Presidency, a nominee was confirmed seventeen times. 
 "I was elected for four years… Not three," said President Trump during the first presidential debate.
However, as Vice President Biden has pointed out, President Trump is not entirely on the side of precedent.  After all, Senate Republicans refused to even hold a vote for Judge Merrick Garland to replace the late Justice Antonin Scalia.  
"Americans deserve a say.  The Supreme Court is important," said senior David Gold.
Similarly, President Trump has vehemently opposed the suggestion from many prominent Democrats regarding the possibility of "packing the court" and eliminating the filibuster.  While Biden opposed the idea of packing the court during the primaries, he has recently stated that, if elected, he will appoint a bipartisan commission to examine whether to overhaul the judicial branch.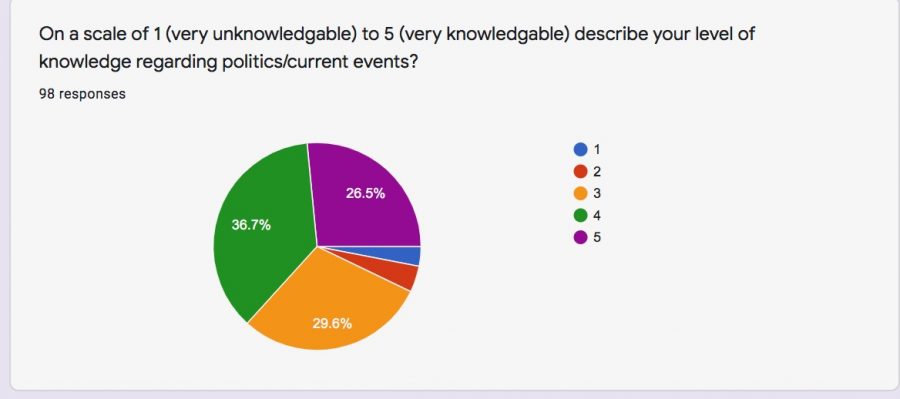 Gun Control
With the number of mass shootings rising over the past few years, the debate over gun control policy could not be more significant.  President Trump and Vice President Biden have dramatically different views on this key issue which affects thousands of Americans nationwide.
"If I wasn't here, you wouldn't have a Second Amendment right now," said President Trump to Sean Hannity of Fox News during a Sept. 9 interview.
His defense of the rights of gun owners has appealed to many, and he has been endorsed by the National Rifle Association, who donated $30 million to the Trump campaign in 2016.  President Trump's views on gun control have not always been clear, as he threatened to veto legislation to expand background checks and tightly regulate gun sales in 2018, but expressed an openness for such measures after the El Paso shooting in 2019.  
Vice President Biden supports more stringent gun policies, which include universal background checks, a voluntary buyback program for assault weapons, and a national firearm registry.
President Trump has attacked Vice President Biden on this issue, saying Biden wishes to abolish the Second Amendment.  However, Vice President Biden has repeatedly asserted that he does not want to do that, but he does support the need for more restrictions on gun purchases.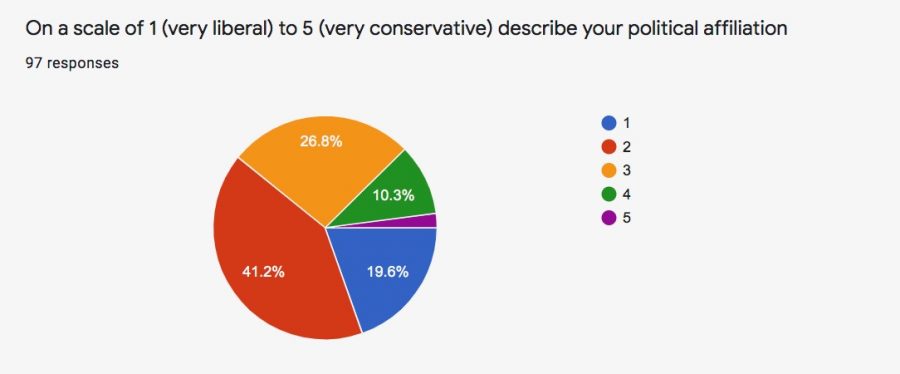 Police Brutality & Race Relations
The tragic deaths of George Floyd, Breonna Taylor, and many other Black Americans have brought attention to the Black Lives Matter movement and have sparked protests regarding achieving racial justice and equality and ending police brutality.  
In the first presidential debate on Sept. 29, both candidates were asked how they would deal with race issues over the next four years.  
Neither candidate gave entirely clear answers to this question.  President Trump described the anti-racism and Black Lives Matter protests as violent and criticized Democratic mayors for not using force to contain them.  Vice President Biden addressed the systemic injustice that Black Americans face, and said he would work to reform the system if elected president, but he did not offer a distinct plan for how he would do so.  
With respect to police reform, a Democratic bill, called the Justice in Policing Act of 2020, was passed by the U.S. House of Representatives last June.  Among many other reforms, this bill banned law enforcement at the federal level from using chokeholds and no-knock warrants.  However, President Trump said the bill would weaken the ability of law enforcement officers to protect communities.  With passage in the Senate and presidential approval required, the bill has yet to become a law, leaving the question of police reform open.
COVID-19 Pandemic
COVID-19 is one of the most significant problems facing America today.  Each candidate has a different view on how the United States should adapt to this new "normal."  These responses have also been reflected on the campaign trail.  President Trump has been hosting large rallies with thousands of people in close proximity, some indoors, and many without masks being worn by the attendees.  He believes that America should try to return to pre-pandemic life as soon as possible.
 In contrast, Vice President Biden has been having small socially distanced rallies outdoors where masks are required.  He wants America to ease into reopening plans while at the same time attempting to stay safe.  
Biden supports a nationwide mask mandate, while President Trump has been nonchalant regarding mask wearing. Sticking with his Republican views on a small federal government, President Trump permitted states to legislate their own COVID policies, citing how each state is impacted differently. 
"Trump didn't want to wear a mask in public because he didn't want to look 'weak.'  This makes him even more pathetic because he couldn't wear a light cloth on his face," said senior Ben Rotko.
Both candidates were expected to take a COVID-19 test the day of the first presidential debate prior to participating.  However, Trump's party arrived at the venue too late for the test to be performed and the event preceded anyway.  At the debate, the President taunted Biden for always wearing a mask. Then, a few days later, Trump was hospitalized after being diagnosed with the virus, and he has not been willing to follow the recommendations of doctors or the Centers for Disease Control.  
Climate 
The 2020 presidential election is arguably one of the most significant races for the future of the planet.  Whoever occupies the White House for the next four years will be responsible for the fight against the dangerous and irreversible level of climate change we are approaching.  Because climate change is an issue that will most significantly affect younger people and future generations, this tends to be an issue that young voters aremost passionate about.
President Trump has a record of undermining climate science.  On his campaign website, he only references "climate" and "climate change" four times.  In contrast, Vice President Biden mentions it nearly 215 times on his website.  Trump has withdrawn from the global Paris Climate Accord, a United Nations agreement that outlines the goals of lowering the global climate and greenhouse gases.  Trump has also led initiatives that promote the use of fossil fuels, especially coal, in the hope of boosting the economy.  The Trump Administration has also permitted many oil drilling and pipeline projects.  
In contrast, Vice President Biden has taken the "No Fossil Fuel Money" pledge.  He has advocated for clean energy for many years and has stated that it is his goal to join the Paris Agreement.  His $1.7 trillion climate plan details his commitment to clean energy.  During this "clean energy revolution," Biden had pledged to get the U.S. to 100% clean energy by 2050.  His platform takes a strong stance against fossil fuel companies and he has stated that will take action against companies that knowingly harm our air, land, or water.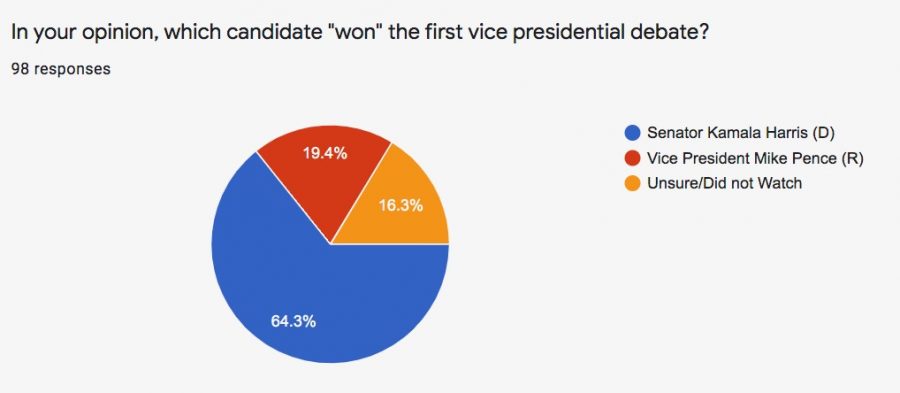 Conclusion
With more and more of Gen-Z heading to cast their ballots this year, it's no surprise that Democratic candidate Biden has a lead in the polls. According to FiveThirtyEight, a data-based news outlet, Biden's chances of winning the election are north of 80%. In addition, Biden's significant fundraising advantage has enabled him to spend money in traditionally red states that are now possible tossups, such as Texas.  
As our Schreiber Times survey suggests, the younger generation breaks from the Boomer's emphasis on economic growth and foreign policy, focusing more on social and domestic issues. Of the Schreiber students surveyed, 29% and 19% said that combatting COVID-19 and climate change are the most important issues to them in this election cycle, whereas only 12% of students chose the economy. Abortion rights (11%) and race relations (10%) rounded out the top 5. Regardless, it's imperative to continue making your voices heard on these important issues, and be the change you wish to see in the world.