New COVID-19 restrictions in parts of Nassau County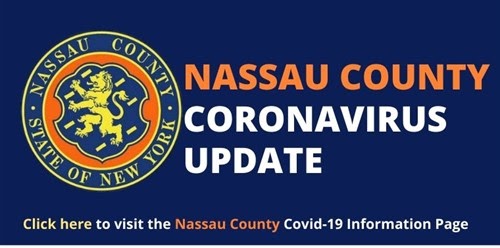 The recent spike in COVID-19 cases in Nassau County has resulted in a series of new restrictions and regulations.  New York Governor Andrew Cuomo has put these restrictions into effect to limit the spread of this highly contagious virus.  Governor Cuomo has also increased the frequency of his press briefings to inform New Yorkers about the new spikes around the state and the new rules being put in place around the state, including in Nassau County.  
 "The restrictions seem to help prevent the spread of this provenly mortal illness. Though we wish things could go back to normal, we know this is what's best for us and what needs to be done in order to keep us safe," said junior Sophia Kingsley.
 New York State has identified various hotspots where these restrictions will be put into effect. These hotspot locations have been deemed "yellow, orange, and red zones" based on the severity of the positivity rate.  Governor Cuomo and other local officials have said that the increase in positive cases in these areas can be traced back to in-person school reopenings, but also sizable religious community gatherings.  
State officials began investigating and identifying certain private religious schools and places of worship to control the spread of the virus.  Various Orthodox Jewish synagogues have been investigated due to celebrations and gatherings during the high holidays throughout mid-Oct..  
"I think the restrictions should be looser for the mental health of everyone," said junior George Lazaridis. 
COVID-19 clusters have emerged in areas around New York City, including parts of Brooklyn and Queens.  However, some of these cluster hot spot zones have extended out to Nassau County, including the towns of Lawrence, Inwood, and Cedarhurst. 
"We want to make sure the infection rate in the hot spots does not spread.  The spread is inevitable if we do not control the hot spot," said Governor Cuomo in his Oct. 7 press briefing.
According to ABC News, many new restrictions have been put in place for these areas in response.  For the red zones, which are the most severe, rules include twenty-five percent capacity and a maximum of 10 people in houses of worship, no mass gatherings, the closure of nonessential businesses and schools, and take-out dining only.  
For the orange zones, which is the medium severity, rules include thirty-three percent capacity and a maximum of 25 people in houses of worship, a maximum of 10 people with regards to mass gatherings, the closing of high-risk nonessential business like gyms and personal care facilities, outdoor dining only with a maximum of four people at a table, and only remote education in schools.  
Lastly, for the yellow zones, which are the least severe of the cluster zones, rules include fifty percent capacity in houses of worship, a maximum of 25 people at mass gatherings, open businesses, indoor and outdoor dining, and mandatory weekly testing in schools for in-person classes. 
This campaign to stop the COVID-19 spread has ignited some angry demonstrations, including one in Brooklyn on Thursday, Oct 8.  Hundreds of members of the Orthodox Jewish community protested these restrictions, calling them unjust. 
 Laura Curran, the Nassau County Executive, said that some Nassau towns have only been put in orange and yellow zones for now. 
"The village of Lawrence has the highest COVID-19 rate in the county… We cannot go backward," said Curran during her press briefing on Wednesday Oct. 7.
Nassau County has many locations for people to get a COVID-19 test.  If you would like to find one close to you go to: https://coronavirus.health.ny.gov/find-test-site-near-you