Ariana Grande's highly anticipated new album, "Positions," is here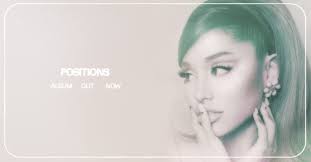 Ariana Grande's sixth studio album, Positions, was released on Oct. 30 and has caused an extreme craze among fans.  The tracklist consists of 24 pop-hit songs that have already become very popular.  Grande chooses to release music at her own pace rather than keep an "album cycle" because she finds it more healthy and rewarding.  This release was a delight to fans, considering that they have been awaiting the album since Feb. 8, 2019, after her fifth album, Thank U, Next, was released. 
"I am so ecstatic to listen to Ariana Grande's sixth album because I love listening to her music and I have been a fan for years," said freshman Hannah Ross. 
Many of the songs on the album were inspired by Grande's journey of feeling, growing, and healing.  The song, "Just Like Magic," consists of inspirational lines that elaborate upon her passion to obtain a healthy and happy life.  Some of these include "Good Karma," "Keep My Conscience Clear," "That's Why I'm So Magnetic," and "Manifest It." 
Although Grande's lyrics have recently been inspired by motivation, the inspiration for other songs on her album have come from past relationships.  Grande's current boyfriend, Dalton Gomez, has allowed her to realize that falling in love can occur yet again after a heartbreak.  In her song, "Love Language", Grande sings, "why would I double back or do the same thing twice."  The lines "you're making me forget my past," and "never thought I'd feel like that again," from her song "Safety Net" also help to explain her thoughts towards past relationships. 
"I believe that Ariana is such an inspirational role model, and I am so glad that she was able to overcome her troubles," said sophomore Thea Rabman. 
On Oct. 23, Ariana Grande released her powerful music video for the track "Positions."  The video displays Grande participating in stereotypical female gender role tasks such as cooking, as well as transforming to become a leader and acting as the President of the United States.  These different scenes were influenced by the lyrics which describe a switch of positions.  Many fans agree that her ability to adapt to many different climates and situations is incredible, while making a statement on gender roles.
Not only does the album consist of outstanding solo songs, but it also includes a few collaborations with A-list artists.  The song "Motive" is a long-anticipated collaborative effort that features emerging female star Doja Cat alongside Grande.  The song can now be officially listened to along with the track "Safety Net," which features R&B superstar Ty Dolla $ign. 
"It was an honor to work with her," said Ty Dolla $ign in an interview with Los Angeles hip-hop station Real 92.3.
Contributions to the album also came from Grande's friends as well.  Even Scott Nicholson, one of her backup dancers, was able to help with a few of her songs.  To receive even more input, Grande reunited with her Thank U, Next team during quarantine due to the COVID-19 pandemic. 
"It is great that Ariana listens to and considers the ideas of friends, family, and even acquaintances," said sophomore Geordan Sparber. 
Ariana Grande has acted as an inspiration to many.  Although she was originally known for her acting career on a Nickelodeon sitcom, Grande has become one of the biggest pop stars of her generation.  This singer has been so successful, and her fans cannot wait to listen to her future creations.