After five years, fans can say "Hello" to Adele's new music soon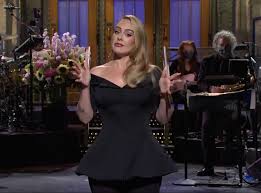 It's been a long five years, but fans of pop sensation Adele can finally expect to hear some new music from her soon.  Adele, England's powerhouse vocalist, has been missed ever since she ended her latest tour to celebrate her album 25 in June 2017.  Released in 2015, 25 was the artist's third album.  The critically acclaimed record won the five Grammys: Album Of The Year and Best Pop Vocal Album for 25, and Record Of The Year, Song Of The Year, and Best Pop Solo Performance for the album's standout single, "Hello."  The album, a description of her life at the age of 25, encapsulated ideas of growing old, relationships, and regret.  It made first-week sales history, selling 3.38 million copies, the second best selling album of the 2010s, only to Adele's own 21 in 2011. 
"25 is one of my favorite albums of all time.  There are so many great songs that I found myself listening to in many different moods.  My personal favorite is 'Million Years Ago' because it is such a meaningful song that so many people can relate to," said junior Bella Feigin. 
Ever since her seemingly unsurpassed album, Adele fans have been left in the dark about what or when Adele's next project would be.  However, on Oct. 24, fans were able to see her five years after she had released her last album, on Saturday Night Live.  Adele had previously appeared on SNL as a performer in 2008 after her first album, 19, which contained songs like "Cold Shoulder" and "Chasing Pavements," topped the charts.  While she wasn't a musical guest this year, she did act as host, which she referred to in her monologue. 
"I know there's been a lot of chatter about me just being the host, like why isn't she the musical guest and stuff like that, and there's a couple of reasons: My album isn't finished, and I'm also too scared to do both," said Adele on Saturday Night Live. 
Reports from Adele's manager in Jan. said that we could expect an album in the fall, but no such album has been released.  Her monologue confirmed that an album can be expected in the coming year.  While many were disappointed about the lack of new music, fans were thrilled by Adele's appearances in the skits. 
"I thought Adele's fortune teller skit was really funny because it's so relevant.   They did a great job making jokes about Zoom, staying at home, and COVID-19.  It's impressive to see Adele do so well in acting as well as singing.  Even though it's disappointing there's no new music, the SNL skits were a nice surprise," said junior Olivia Kerrane. 
An emotional tone can certainly be expected from this upcoming album, as Adele just endured a messy divorce from ex-husband, Simon Konecki in April 2019.  At the request of Adele, the details from court have remained private, some of which may be revealed through encoded lyrics next year.  In addition, she has taken the past few years to prioritize her health and recently shocked fans with her dramatic weight loss.  In the meantime, fans will have to rewatch the skits, relisten to her past albums, and stay tuned for any updates regarding her next record.