Sam Smith's new album, "Love Goes", has fans in awe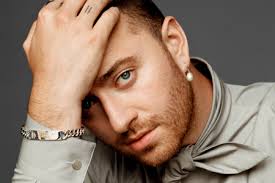 2020 has been a year full of exploration and discovery.  This is exactly what Sam Smith's new album, Love Goes, released on Oct. 30, focuses on.  This album has been a work in progress for the past two years.  Smith states in People that this time was "the most experimental time in their life, personally but also musically."
In response to the worldwide shutdown due to the COVID-19 pandemic in March, Smith announced that they would be renaming and postponing the release date of their third studio album.  After originally titling their album "To Die For," Smith felt that the timing and the title ¨didn't feel right¨ because of the death rates that COVID-19 had caused throughout the world.  
"With so much change and sadness taking place in the world throughout this year, I was really glad that Sam Smith still decided to release this album because I think it probably helped a lot of people through some very difficult times," said junior Tessa Klugman.
The new album featured Smith's soulful voice as displayed in the album's lead single, "Diamonds," in addition to many collaborations with artists who have inspired and motivated them.  Some of these tracks include "I'm Ready" with Demi Lovato, "My Oasis" with Burna Boy, and "Temptation" with Tiwa Savage.  
"I love both Demi Lovato and Sam Smith's songs so I thought it was really cool that they did a collaboration together.  I thought the song was really catchy and did a great job featuring both of their unique voices," said junior Avery Miller.  
Smith's songs focus heavily on strong emotions such as the resentment towards a faithless lover, self pity, loneliness, longing and regret.  In "Breaking Hearts," Smith sings the melancholy chorus about an ex-lover who "got caught."  They express that while the former lover was "busy breaking hearts," Smith "was busy breakin."  Similarly, in "Another One," Smith sings to an ex-lover in a sarcastic tone that he should be congratulated on finding "the one," sounding relieved that they "dodged a bullet" and expressing how much better the ex should have behaved.  In "Diamonds," Smith directly indicates an ex who had purely materialistic intentions.  Stating that they "now I know just what you love me for," there is an ache in Smith's voice confessing to some self-deception in the fact that they "think I always knew."  
"I think expressing oneself through music is a great way to deal with more depressing emotions and this is exactly what Sam Smith is doing with this album," said junior Emily Benson-Tyler.
In the song titled "Dance ('Till You Love Someone Else)," Smith desperately looks to find a rebound, or "someone to get me over it."  "Forgive Myself" was written at a time when Smith was fresh out of a breakup with someone and their "heart was really, really heavy while writing it."  This song helped Smith realize that they can't move forward unless they forgive themself for all the little things that have happened.  The title track of the album, "Love Goes," is a pre-emptive strike to break up with someone before things get too serious.  Similarly to many of Smith's songs, "Love Goes" starts with an unaccompanied keyboard playing a loop of simple patterns.  The song then merges with a handful of instruments and Smith's intimate vocals until a brass ensemble enters.  Smith sings that "if you know it you won't fight me when I say farewell" and "I tried to change you, tried to make you into someone else" but "I guess the only one I'm fooling is my stupid self."
"Forgiveness is so important, both in relation to self forgiveness and forgiveness with another person, and music is a great way to spread this lesson and teach others," said junior Amy Baxter.
In general, Sam Smith's Love Goes album focuses on forgiving oneself which is something that everyone should try to focus on when they are going through difficult times.