No-shave November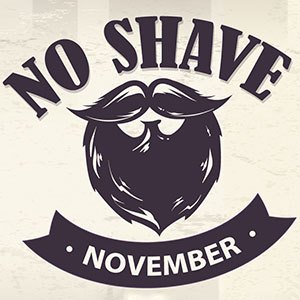 November is the time of year to reflect on what you are grateful for and a time to bring awareness to a very important topic.  During the month of November, you may have seen teachers and classmates growing out their facial hair.   
No-shave November is a month-long challenge where participants refrain from shaving to bring awareness to cancer.  The idea of the campaign is to cut back on costs spent for grooming materials, and instead, to donate this money to charities raising money for cancer.
"No-Shave November's mission is to raise funds for cancer research and treatment while educating the population about preventative measures.  For over a decade, participants around the globe have put down their razors and foregone their waxing appointment to fight back against cancer," according to No-Shave November's official website, no-shave.org.
No-shave November begins on Nov. 1 and lasts throughout the month.  Although No-Shave November is typically considered to be a male-dominated campaign, women are also very encouraged to partake in this fun and rewarding challenge.  Shaving isn't the only thing to cut back on, though. No hair cuts, waxing, and threading are all a part of the challenge.  The halt on all hair removal products and procedures can help save millions of dollars that are later donated to cancer.  No-Shave November has saved and donated around 10 million dollars for cancer over the entirety of its campaign. 
"No-Shave November is an easy way to help those who are suffering from cancer, and bringing awareness to this topic is extremely important.  Organizations like No-Shave November help so many people, it's really a great idea and I'm glad it is a part of our culture," said sophomore Tarah Parmar.  
A large significance of No-Shave November is learning to embrace your hair, as cancer patients who undergo chemotherapy often lose theirs.  No-Shave November helps to empower those undergoing chemotherapy by celebrating them.  Allowing yourself to grow out your hair helps embrace those who physically cannot. 
Many friends and family members of cancer patients actively participate in No-Shave November, and it raises their spirits when they need it most.  
"Cancer affects so many people and families, and fundraisers like No-Shave November allow you to get involved with this important cause.  The month gathers so much money for cancer research, and it's truly amazing, not only how much money it raises, but also how it helps cheer patients up," said sophomore Bella Pagliaro.  
No-Shave November can also be a really fun experience.  You can grow out a silly mustache or beard which will put a smile on everyone's face and will make a cancer patient's day!  As for those with long hair, once No-Shave November concludes, you can get an awesome new haircut and donate your excess hair to cancer organizations so they can be used for wigs.  
The No-Shave November official site also is selling merchandise to help raise money for cancer charities.  Visit no-shave.org to learn more!  By participating in No-Shave November, you can help so many by raising awareness and donating money to an incredible cause.