American Music Awards Was The First Large Public Event Since The Pandemic Started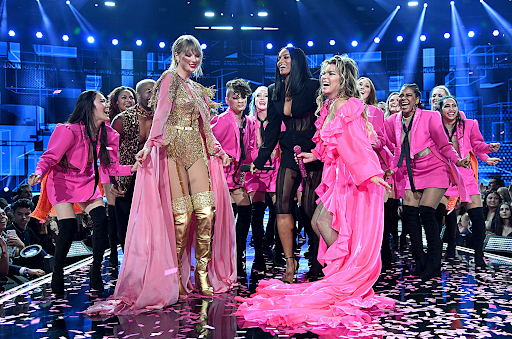 The 2020 American Music Awards offered a much needed escape from the pandemic, politics, and school.  The event took place on Nov. 22 and offered musicians the joyous experience of taking home an award.  Taraji P. Henson hosted this event at the Microsoft Theater in Los Angeles.  She is an Emmy and Oscar-nominated American actress who starred in the film, Baby Boy.  Although the show usually consists of a large live audience, COVID-19 protocols prohibited this.  Instead, the audience consisted of a small crowd to watch the  live celebrity performances.
There were multiple ways to watch the three hour award show.  The telecast aired it live from Los Angeles on the ABC network.  It was possible to stream the show on the ABC website or Hulu Live TV too.  Viewers and fans also accessed additional content of the awards like interviews and behind-the-scenes footage through Facebook, Twitter, Instagram, Snapchat, and YouTube.
"It was amazing how I was able to watch the incredible award show from the comfort of my home," said sophomore Geordan Sparber.
The award show began with Shawn Mendes and Justin Bieber performing their new single, "Monster."  Bieber later performed his songs "Lonely" and "Holy."  Megan Thee Stallion took the stage performing her hit song "Body."  For the first time since becoming a mother, Katy Perry, along with Darius Trucker, performed "Only Love."  She spent a long time on maternity leave out of the spotlight, but fans are glad to see her back on stage.
"I was so glad to see Katy Perry perform such a great song after taking a break," said sophomore Samantha Friedler.  
Later in the show, many celebrities won awards in different categories.  Becky G won a new award at the AMAs, Favorite Female Latin Artist.  Harry Styles won Favorite Album, with his album Fine Line.  Lastly, Dua Lipa won Favorite Song with her hit "Don't Start Now."
Not only was "Cardigan," by Taylor Swift awarded "Favorite Music Video," but she also won Artist of the Year.  This prize is the most prestigious award to possibly receive at the AMAs.  These wins, alongside winning Favorite Female Pop Artist, have contributed to Swift's total American Music Awards to create a record of thirty two AMA career wins.  Her fans look forward to her future music and awards.
"It is so fascinating that Taylor Swift was able to win three American Music Awards, and one of them included Artist of the Year," said junior Phoebe Levitsky.  
The American Music Awards highlight talent within multiple genres.  The awards are extremely popular because they are based on fans' opinions.  Although it was not a typical award show due to the pandemic, it was still able to engage and entertain its audience.  The American Music Awards provided a great escape for many.