A Macy's Thanksgiving Day Parade like no other year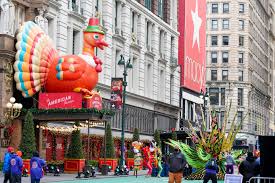 The annual New York City tradition of the Macy's Thanksgiving Day Parade has been running since 1924.  It is an event that brings joy and spreads holiday cheer throughout the nation.  For the past 94 years, people across the country have looked forward to the huge event, which usually has a crowd of about 3.5 million people in the city streets and 8,000 performers and participants in the parade. 
The COVID-19 pandemic has altered so many events, including this one.  The 2020 Parade took place on Nov. 26 and was celebrated differently than any other year.  Instead of the huge crowd standing across the city blocks for 2.5 miles, the event aired only on television and was viewed virtually and safely from home.  Usually we see huge balloon floats, marching bands, singing and dancing performances, and so much more.  However, this Nov., performances were limited and many of the iconic, gigantic parade floats weren't brought out.  
"It's so unfortunate for the people who usually attend the parade.  It just wasn't the same this year without the huge crowd," said freshman Hannah Ross.
The 2020 parade consisted of Broadway performances such as the cast of Hamilton and Mean Girls, and many stars including Bebe Rexha, Noah Cyrus, Tori Kelly, and more.  The Big Apple Circus, Santa Claus, and the Radio City Rockettes were also featured, just like every other year.
This year's hosts were Savannah Guthrie, Hoda Kotb and Al Roker.  While a majority of the parade looked different this year, it was still hosted in the same location:  Macy's storefront on 34th Street, Manhattan, New York. 
Precautions were taken in order to prioritize the health of the participants.  Performers were tested for the coronavirus in advance, they had to socially distance the entire time, and they wore protective gear. 
"While the parade was not the same as it usually is, I'm still happy that at least some variation of it happened this year," said freshman Jessie Feinstein.
Some Schreiber students were less satisfied.
"Watching the parade is a Thanksgiving tradition in my house and the best feeling in the morning.  I'm so upset it wasn't the same as past years," said freshman Izzy Montaigne.