Is Kimye calling it splits?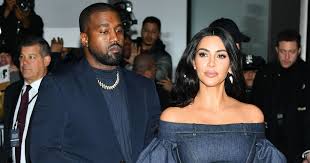 On Jan. 5, 2021, Page Six reported that Kim Kardashian West was preparing to file for divorce from Kanye West.  Soon after, almost every news station reported this, including TMZ, People, The DailyMail, US Weekly Magazine, Cosmopolitan, and many more.  This comes as a shock to many Keeping Up With The Kardashians fans, as they have seen Kim and Kanye's relationship start as just a friendship before developing into a marriage.  These fans were taken with the Kardashian/Jenner family to see Kanye propose to Kim in San Francisco in an empty park with fireworks and live music in Oct. 2013.
Kim Kardashian and Kanye West got married quickly in Forte Di Belvedere in Florence, Italy on May 24, 2014.  Soon after, Kim Kardashian West and Kanye West welcomed their first child, North West on June 15, 2014.  About a year and a half later, Saint West was born on Dec. 5, 2015.  Chicago Noel West was later born on Jan. 15, 2018, and the youngest, Psalm Ye West, arrived on May 9, 2019, completing their family of six. 
Of course, there were ups and downs throughout their relationship, but the couple seemed to be on great terms, as seen in Keeping Up With The Kardashians, Vogue interviews, and more.  However, on July 19, 2020, after Kanye's first presidential campaign event in South Carolina, Kanye revealed that Kim Kardashian and himself almost chose to abort their daughter, North.  Amidst the heated remarks and controversy, rumors of divorce started to arise.
"When I first heard the rumors I was surprised.  I could never even imagine Kim and Kanye splitting up, they have always seemed perfect for each other," said sophomore Zoe Edelblum. 
These rumors eventually calmed down, but never fully went away.  In early January, news broke that Kim hired a divorce attorney, Laura Wasser.  Kim believes that since they  married, she has grown up greatly, while Kanye has not.
"She is serious about taking the bar exam and becoming a lawyer, she is serious about her prison reform campaign.  Meanwhile, Kanye is talking about running for president… she's just had enough of it," said a source reported with Page Six.
It does not look like a hopeful future for Kimye fans because Kanye does not want Kim back either.  Kanye feels that the entire Kardashian/Jenner clan is too over the top and is intolerable.  Kanye has not only disrespected the five Kardashian/Jenner sisters, Kourtney Kardashian, Kim Kardashian West, Khloé Kardashian, Kendall Jenner, and Kylie Jenner, but also their mother, Kris Jenner.  Kanye has even gone as far as to call Kris Jenner "Kris Jong-Un." 
Kanye West arrived late to Kim Kardashian West's fortieth birthday party and left early, showing early signs of their pending separation. 
  "I never liked them together and I did not understand their relationship.  I always believed that Kim and Kanye were polar opposites.  I am happy that they are finally getting a divorce," said sophomore Chloe Fanous.
Sources believe that deciding over who gets their Calabasas, California home will be the toughest part of the divorce efforts.  Kanye West owns the house, while Kim Kardashian West owns the land and lots around the house.  Both Kim and Kanye have put a lot of time and money into renovating it, spending 40 million dollars on the home itself and 20 million dollars on the renovations. 
Kardashian fans are hopeful to learn more concrete information about the divorce on the final season of their famous E! reality show.