A virtual fashion week brings changes to the fashion industry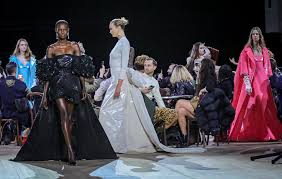 New York Fashion Week is here and designers are ready to show off their new collections in innovative ways.  The 2021 fall collections will be taking place from Feb. 14 to April 15.  This week is usually chaotic, as people run to shows all day long. However, this year is going to be different due to the pandemic.  NYFW is taking an all digital approach by live streaming their shows.  This allows anyone to take part in the shows by watching from home.  Many designers will be live streaming on social media and the NYFW website. In addition, photo collection reviews will be found in the Vogue Runway app.  
With the technology of live streaming, many labels are showcasing their collections in different ways rather than models strutting down a runway.  Some brands are creating short trailers or creating small documentaries to display their collections.
"I am very excited to see how my favorite brands will portray their newest collections digitally," said junior Nicole Meehan. 
The digital approach to fashion week is not the only change we will see this year.  Many designers are deciding to incorporate hot topics like race and equality into their designs and presentation.  For example, the label, Private Policy, is presenting a collection based on Chinese transcontinental railroad workers during the 19th century to spread awareness on the racism Asian Americans face today.  Many believe these topics are not spoken about enough in the fashion industry.  
"I am mostly thrilled to see many popular brands start to talk about these tough topics through their new collections, I believe that is where the change will appear," said junior Sadie Mandel. 
Popular brands such as Calvin Klein, Marc Jacobs, Michael Kors, and Ralph Lauren are not participating in New York Fashion Week this February despite the technology that could be used.  Although these name brands will be missed, as they usually are the ones with the biggest shows, their absence will place a larger spotlight on smaller labels such as Markarian by Alexandra O'Neill, the designer of Dr. Jill Biden's memorable inauguration pieces.  Another designer to look out for is Jason Wu, who is one of the few designers putting on an in-person show complete with masks and hand sanitizer.  
"Without many big brands this year at New York Fashion Week, it puts smaller labels into the light of the fashion industry and I am excited to see what they have in store for us viewers," said junior Emily Benson-Tyler.  
Although fashion week looks different this year, the changes implemented will allow  the industry to create new and more amazing possibilities for the world of fashion.