Fashion file: The fashionable revolution of sweatsuits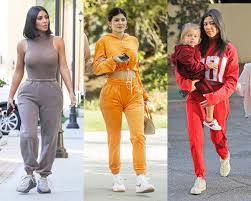 With the ongoing pandemic keeping everyone at home, it was only a matter of time
before sweat sets became the next fashion fad.  Matching sweat sets are the trendy and cute version of pajamas.  A quick matching set is not too hard to throw together and can come in a variety of colors and styles.  Many popular sets can include monochromatic color schemes, tie-dye patterns, and a variety of fabrics.
"A coordinated sweatsuit is a comfortable choice for watching movies or working on puzzles, making quick runs to stock up on necessities, or even doing actual workouts without having to change," said ​Vogue​ writer Madeline Fass.
While the pandemic has definitely accelerated this fashion trend, sweat sets have been popular for a while.  The tracksuit (from which matching sweat sets evolved) was originally introduced by Adidas in 1964, and eventually became popular sportswear during the 1970s.  However, with the influence of hip-hop culture, the sweatsuit moved from athletic wear to a part of everyday attire in the 1980s.
"I love wearing matching sweatpants and sweatshirts! It's my favorite combination–stylish and comfy," said junior Avery Miller.
The 1990s took this trend to a new level with the introduction of luxury sweatsuits.  In more recent years, celebrities such as Justin Bieber and Kendall Jenner have started the newest sweatsuit trend, which has been monochrome sweatsuits.  Luxury loungewear labels such as Entireworld​ are starting to cater to the new sweatsuit trend, posting colorful models in their bright sweats sets on social media platforms such as Instagram.  The younger generations seem to gravitate towards these fashionably cozy outfits.
Over the past year, celebrities are constantly spotted wearing sweatsuits. Jessica Alba and other Tiktok stars can be seen wearing them during their viral dance routines.  James Corden, comedian and talk show host, is known for going into CBS's LA studio in stylish Gucci sweat suits, and supermodel Gigi Hadid is often spotted wearing yellow Cotton Citizen sweats.  As with many celebrity-driven trends, many everyday people wanted in on this trend, and with brands selling at different price points, there is a sweatsuit made for almost everyone.
Here is a quick guide to rocking this trend so that you can be as stylish as some of the most famous celebrities.  Step one is to match your top and bottoms, whether this is in theme, color, or pattern. The two pieces don't need to necessarily be from the same brand, however.  It is perfectly fine to explore designs from different companies to establish your perfect set.  Step two is to add any accessories, from statement bags to a pair of bold earrings.  Step three is sleek, clean-looking footwear, anything from a cute boot to a stylish white sneaker can work.  The final step is to wear the outfit with confidence.