Netflix's historical drama breaks modern day records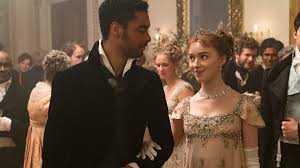 If you need a new show to binge, Bridgerton, Netflix's new historical drama, is a huge hit among viewers across the globe.  The series was created by Chris Van Dusen and introduced on Dec. 25, 2020.  It is based on Julia Quinn's novel that revolves around the lives of two British families during "the season," a time when formal events are hosted in order to find suitable marriages for their children and introduce them to society.  
One of the families focused on consists of a recently widowed mother, Violet Bridgerton, and her eight children, four girls and four boys.  It is up to the oldest son, Anthony, to help his sister, Daphne, find a husband.  After Daphne is acquainted with Duke Simon Basset, she immediately expresses her interest in him.  However, Simon, her brother's best friend, has sworn to never marry or have children.  
"I always look forward to watching such an amazing show. I am also surprised and invested while watching," said freshman Hannah Ross. 
The Featheringtons, the other family, have three daughters, Philippa, Prudence, and Penelope who are guided by their mother, Portia Featherington, through "the season."  There is a large amount of stress put on these children during "the season," and Lady Whistledown makes this even more difficult.  She enjoys gossiping and publishes newsletters highlighting  scandals, engagements, and more.  These problems, drama, and relationships are keeping viewers entertained.
Bridgerton is full of an amazing cast including:  Rege-Jean Page, Phoebe Dynevor, Nicola Coughlin, Jonathan Bailey, and even Julie Andrews.  Page portrays Simon Basset and Dynevor plays Daphne Bridgerton.  The two are often seen together in the series.  Coughlin acts as Penelope Featherington and Bailey plays Anthony Bridgerton.  Julie Andrews, who is best known for her roles in Mary Poppins (1965) along with The Sound of Music (1966), plays Lady Whistledown.  She is an Oscar winning actress and a phenomenal singer as well.  Many credit the outstanding cast as one of the reasons why the show has been so popular among viewers.  
"Julie Andrews is one of my favorite actresses. She was amazing in The Sound of Music, so it would be great to see her act in this new series," said sophomore Theadora Rabman.
The actors aren't the only big names in the show.  Shonda Rhimes is the show's producer.  She successfully created and produced the medical drama Grey's Anatomy, its spinoff Private Practice, and even the political thriller series Scandal.  Rhimes stumbled upon the original book while on vacation and loved it so much, she wanted to create a show based off of it.  She even put her own spin on it by introducing a new character, Queen Charlotte, who is believed to be the first biracial royal.
"I had previously heard about this series on Netflix, and I am a huge fan of Shonda Rhimes. I can't wait to start watching," said sophomore Geordan Sparber. 
Because of its amazing director, producer, and cast, Bridgerton has become Netflix's most popular series of all time.  In fact, the streaming platform has already renewed the show for another season.  The show has been on Netflix's top ten most popular list for weeks and exceeded all expectations by providing a great outlook on the lives of people in search of love.