New Penn Station at Moynihan Train Hall with Highline Extension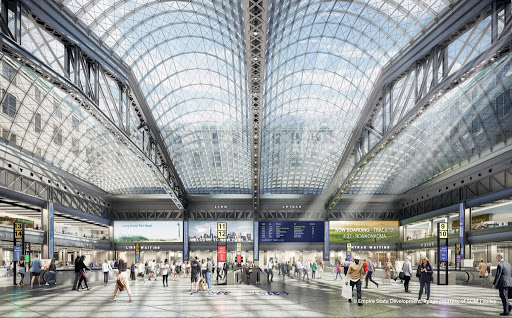 On Jan. 1, 2021, the $1.6 billion Moynihan Train Hall opened its doors, marking a fresh start from the Penn Station era.  The new hall will replace routes and add trains from the current Penn Station that serves up to 650,000 riders each weekday since its creation.  It will primarily serve Amtrak passengers for now, but LIRR and other lines will soon be serviced with greater frequency.  The project was opened on time and budget with few hiccups because it has been in the making for many decades.  
Since the first Penn Station's demolition in the 1960s, the train station was moved to grounds underneath Madison Square Garden, where passengers felt cramped or crowded.  However, 30 years ago, then-senator Daniel Patrick Moynihan presented the idea to move it across the street into the United States Postal Service building.  
He believed that the new station would solve Penn Station's crowdedness and serve as a proper entrance to New York City, akin to the Grand Central Station.  In 2017, Gov. Cuomo started construction in partnership with major developers Related Companies and Vornado.  Developers paid $630 million with a 99-year lease, and the other $970 million was paid by various public sources. 
"It speaks to the brighter days ahead when we will be able to congregate, to pass one another, and to share the same space free of fear.  It promises renewal and rebirth of civic life in New York and points to the opportunity ahead," said Gov. Cuomo in a New York Times article.  
Unlike its dreary predecessor, Moynihan Train Hall bolsters an atrium with skylights, bespoke art, and eclectic architecture.  The sprawling, 255,000 square foot hall was designed by architecture firm Skidmore, Owings & Merrill (SOM). The design is supposed to mimic European architecture, with the building's focal point being exposed trusses 92 feet high.  The construction began with restorations of the existing building and was complete with shops, dining, retail, various seating and lounging areas, and office space to be leased by tech companies like Facebook. 
"I think having a beautiful entrance to New York City is important.  Until its demolition, Penn Station used to be stunning, and I am happy that a new generation will once again get to experience the grandeur and awe that people used to, and should, feel walking into the Big Apple," said junior Hannah Brooks.  
All the elaborate architectural elements and art have made the station a destination for non-travelers as well.  The art works commissioned by the project were done by artists like Kehinde Wiley, famous for painting the Presidential Portrait of President Obama.  Kehinde Wiley's work titled Go is a hand-painted glass triptych highlighting young Black New Yorkers who are breakdancing and posing.  
"The permanent, site-specific artworks created for the Moynihan Train Hall help to elevate the experience of travelers who pass through the station.  The works, created by a variety of contemporary artists including Stan Douglas, Elmgreen & Dragset and Kehinde Wiley, link the new station to great public and communal spaces of the past.  The inclusion of modern artwork helps to move the Moynihan Train Hall beyond purely utilitarian functions, creating moments of wonder.  Hopefully, as the pandemic begins to reign in, we can all experience the excitement of travel and see the new Moynihan Train Hall with its dynamic artwork  for ourselves," said AP Art teacher Ms. Miranda Best. 
After the opening of the training hall, Gov.  Cuomo announced plans for a $60 million High Line Expansion that would connect the current line to the Train Hall.  The High Line is an elevated park built onto former train tracks with one and a half mile of lines through the West Side of Lower Manhattan.  The extension would accommodate the 8 million tourists the High Line sees every year, before COVID-19, and improve traffic in the area.  
"Traffic has reached impossible levels, and it's never been efficient or effective.  But it's clear that if the metropolitan area is going to grow, mass transit has to be better, safer, more pleasant, especially in this new world," said Gov. Cuomo in a New York Times article.