Fashion File: The spring staples you need in your wardrobe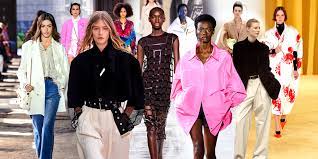 As the temperature outside begins to heat up, people are starting their search for cute and comfortable springtime pieces.  After the long winter months, many of us are ready to start dressing for warmer weather.  Spring 2021 fashion trends entails groovy floral prints, bubblegum pink, beautiful headscarves, and breathable dresses. 
The first spring trend of 2021 is flowy maxi dresses.  These dresses can be found in any color or pattern and can be paired with a patterned bag or scarf.  Also, some may have groovy floral patterns that are very in for this season.  Stores like Revolve sell these beautiful maxi dresses at high price points, while stores like Zara offer a more affordable dress price. 
"Breathe out!  Here's one trend that has come to save those of us trapped in micro-apartments without so much as a resistance band for a company: floaty maxi dresses.  The most romantic idea to appear on catwalks, seen at Dior, Alberta Ferretti, Valentino, Erdem, and Michael Kors," said Vogue writer Ellie Pithers.
The next fashion trend for this spring is the color bubblegum pink.  Bubblegum pink was featured in many spring and summer season runway shows for high-end designers.  Bubblegum pink is easier to incorporate into outfits than a piece of clothing itself because you can add it anywhere from an accessory to a cute sneaker.  The best place to get bubblegum pink pieces is the brand Monki.  Monki is a Swedish-owned brand that now sells directly to the United States through the online store Asos.  Bershka, a teen-focused brand owned by Zara also has many bubblegum pink pieces that people can rock this spring.  
 "I just ordered a bubblegum pink dress off of Bershka and I am so excited to wear it out with my friends this spring!" said junior Nicole Meehan.
This last trend is making a comeback in the fashion world, as it was popularized in the '50s and '60s and has made an appearance in many Tiktoks: headscarves.  Headscarves can be styled as a top (if tied the right way), wrapped around your head with a pair of chunky sunglasses, or just tied as a cute headband to add a pop of pattern to a plain outfit.  The best places to shop for headscarves would be Princess Polly which sells silk and satin scarves.  Grey Bandit is also a popular supplier of headscarves and offers them at much more inexpensive price points. 
 "I am over with winter trends and ready for pretty maxi dresses and pops of pink in all my outfits!" said junior Sadie Mandel.
This spring's style trends seem to be more refreshing and colorful than past seasons.  After a long winter and many zoom classes, it's safe to say everyone is ready for a change in weather and wardrobe.