Cuomo Resigns, Hochul New Governor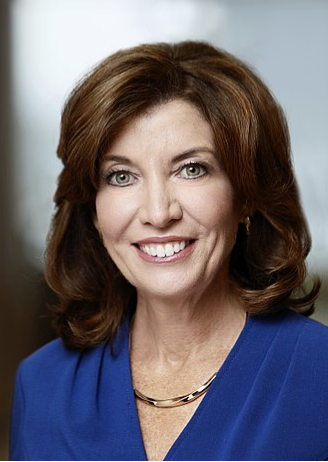 Following the resignation of former governor Andrew Cuomo, Kathy Hochul was sworn in as the 57th governor of New York.  Cuomo's resignation came after the conclusion of New York's Attorney General Letita James' five-month investigation into allegations of sexual harassment.  The report determined that he had sexually harassed 11 women during his time in office; including unwanted groping, kissing, and sexual comments.  Cuomo was also found guilty of illegal retaliation against a former aide, who was the first to publicly accuse him of harassment.  Although he denied sexually harassing anyone, when faced with criminal proceedings, calls to step down  from within his own party, and likely impeachment, Cuomo resigned on Aug. 10.  
"I am ultimately happy that Cuomo resigned because I can't agree with any of the harassment, and I feel deeply for all the women involved who were manipulated by him," said senior Emily Djohan.
Before officially taking office, Hochul distanced herself from Cuomo by calling the allegations against Cuomo "sickening" and his behavior "repulsive and unlawful."  Hochul has promised that she will ensure her administration does not have a toxic work environment, something Cuomo's administration allegedly had, and will fire any staffers involved with the "unethical" retaliation against Cuomo's accusers.  She concluded by calling for a "new era of transparency."  Hochul, 62, is the state's first female governor, and has already confirmed that she will be running for a full term in  Nov. 2022 .
"This situation by its current trajectory will generate months of political and legal controversy… It will cost taxpayers millions of dollars… It will brutalize people,"  said Cuomo in his resignation speech. 
Hochul had served as the lieutenant governor from 2014 to 2021, replacing Cuomo's original number-two Robert Duffy, after he declined to run for reelection.  She won the 2014 Democratic primary for lieutenant governor by about a six-point margin.  Her previous experience includes being a member of the town council of Hamburg, New York for 14 years, Erie County Clerk from 2007 to 2011, and the representative from New York's 26th district  from 2011 to 2013.  With her victory in the special election in 2011, she became the first Democrat to serve the district in 40 years.  However, she lost her reelection bid the next year by about two points.  
She was endorsed by the National Rifle Association, with praise for her "proven record of defending the Second Amendment," which led her to receive an A-rating from the group.  Hochul has since backtracked from that position and supported the New York State SAFE Act, the strictest gun control law in the country. It regulated guns, introduced and required universal background checks, and increased penalties for those who use illegal guns.  Hochul also praised the Red Flag Act, enacted to prevent dangerous individuals from purchasing or possessing a gun.
 Gun control is not the only issue Hochul has seemingly flip-flopped on; in 2007, Hochul opposed giving drivers licenses to undocumented immigrants, and proposed a bill to arrest and deport those who tried applying for one.  In 2018, she reversed her position on the policy, and declared her support for the proposal.  Hochul's progressive persona, policies, promises of reform, as well as her claim of "standing up for progressive values in the most Republican district in the state," are at odds with her past self-description as an "independent democrat."  In addition, Hochul made a speech while she was still a representative. She highlighted her Conservative Party endorsements from previous elections and her opposition to several Obama policies, saying she had become "very conservative" in her voting record.  
However, Hochul has been consistently endorsed by women's groups, labor unions, and LGBTQ+ groups.  During her time in Congress, she was an advocate for the middle class, supporting the Affordable Care Act, protecting Medicare, raising taxes on incomes more than $500,000 a year, and supporting a balanced budget amendment.  She opposed tax breaks for oil companies, as well as free trade agreements, citing the need to protect small businesses.  Hochul introduced the Clothe a Homeless Hero Act of 2012, which gave homeless veterans unclaimed clothing from airports.  As lieutenant governor, she promoted a $15 minimum wage, Paid Family Leave, and the Enough is Enough Program, which "requires all colleges to adopt a set of comprehensive procedures and guidelines, including a uniform definition of affirmative consent, a statewide amnesty policy, and expanded access to law enforcement."  Other parts of her agenda included eliminating the gender wage gap, expanding access to affordable child care, and combatting sexual harassment and discrimination.  She was the co-chair of both New York's Heroin and Opioid Abuse task forces.
"I think the new New York Governor Kathy Hochul is a very interesting political figure. It will be interesting to see what her policies will be, as she is known to sometimes lean liberal and sometimes lean conservative," said junior Alex Almahmoud. 
Hochul's inaugural address included her key goals of battling Coronavirus, fully utilizing the federal government's COVID funding programs, and governmental accountability.  She plans to mandate vaccines or weekly testing for employees of K-12 schools.  
"So far, I think that Hochul's most impressive policymaking has been in regards to school mask mandates. She follows science and I think it's great that she took the responsibility of that decision instead of leaving it up to school districts, and that she is open to vaccine mandates " said junior Susanna Keiserman.  
Hochul hopes to make the $2.1billion dollar Excluded Worker Fund (which gives aid to workers excluded from the federal stimulus payments) more accessible as well. Building a  better infrastructure and "overhauling" a "flawed" ethics system are high priorities for New York's first female governor as well.  Restoring trust in Albany will be difficult as Kathy Hochul begins her time in office as governor.