Dear Evan Hansen film fails to meet high expectations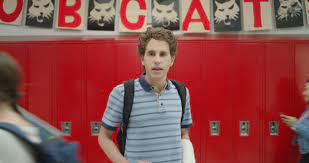 Dear Evan Hansen took Broadway by storm when Steven Levenson wrote the tear-jerking musical about a teen dealing with the suicide of a classmate. Its amazing storyline, catchy music, and star-studded cast made it one of the more popular shows over the past five years, earning it seven Tony awards.  
On Sept. 9, the long awaited film adaptation, starring Ben Platt, Kaitlyn Dever and Amandla Stenberg, premiered at the 2021 Toronto International Film Festival.  However, many critics are saying that the film cannot compare to the incredible and beloved Broadway show.  
"Onstage, it's a tearjerker: a wrenching grief story for grown ups, and a generally frank examination of psychological issues that aren't really addressed in mainstream media to its plethora of young fans. The film is a different story," said David Gordan in his review for Theater Mania.
Other reviews of the film Dear Evan Hansen have been far from good.  Many critics are not happy that Ben Platt is playing a teenager.  Some say that his youthful makeup gives him a ghoulish appearance. 
 "Stephan Chbosky's cinematic adaptation of 'Dear Evan Hansen,' whereby a 27-year-old Ben Platt reprises his role as the teenager titular character, is a total misfire.  It's emotionally manipulative, overlong dirge composed of cloying songs, lackluster vocal performances, and even worse writing, " said Robert Daniels in his review for RogerEbert.com.    
The movie tells the story of a highschooler named Evan Hansen (Ben Platt), who suffers from mental illness.  Connor Murphy, a classmate, steals a letter that Evan's therapist told him to write to himself.  Later that day, Connor takes his own life.  
After the Murphy family finds Evan's letter in Connor's pocket, they think he wrote the letter to Evan and that they were best friends.  Evan, desperate to feel included, becomes entangled in a series of lies.  He starts "The Connor Project,", which raises awareness for mental health and fundraises for suicide prevention.
"I love the message that Dear Evan Hansen sends.  The Broadway show was great, so I'm excited for the movie," said freshman Sadie Feingold.
Although the film is similar to the Broadway show, a couple of differences are that there are two new songs, some cut songs, slight character changes and a different ending.  The new songs are "The Anonymous Ones," performed and co-written by Amandla Stenberg, and "A Little Closer," which is written for Connor Murphy.  The original songs that will not be included in the film are "Anybody Have a Map", "Disappear," "To Break in a Glove," and "Good for You."  
Connor and Zoe's father is now their stepfather, one of many character changes between the movie and play.  Another character change is Jared Kleinman's name has been changed to Jared Kalwani, which is a reference to the Indian heritage of actor Nik Dodani.  Amandla Stenberg's character Alana had a small role in the show, but in the movie her character development is shown.  
"I'm really excited for people to get a deeper look into her and maybe understand more why she and Evan had this interesting friendship," said Ben Platt in an interview with Vanity Fair.  
There are many celebrity covers in the Dear Evan Hansen soundtrack, such as Carrie Underwood and Dan + Shay's "Only Us."  Along with Finneas' cover of "A Little Closer," Sam Smith and Summer Walker covered "You Will Be Found," SZA sang "The Anonymous Ones," and Tori Kelly covered "Waving Through a Window" for the album. 
"From someone who hasn't seen the musical but loves the soundtrack, I'm really excited to see the movie.  The trailer makes the movie seem really good," said freshman Zoe Lucus.
The film will be released Sept. 24 in theaters.  Anyone who wishes to see Dear Evan Hansen can get movie tickets at any theater near them, or it will stream on Peacock about four months after the theatrical release.