NBA Free Agency: Winners and Loser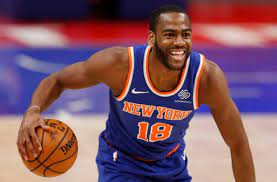 There has been plenty of action during this year's NBA offseason.  We saw many teams make drastic changes to their rosters, with several big players signing with new teams.  With the 2021-22 basketball season on the horizon, here are some of free agency's  winners and losers. 
The Boston Celtics made some big moves over the past few months to set themselves up for a bright future.  They traded an injury-riddled Kemba Walker along with two draft picks to the Oklahoma City Thunder for Moses Brown, a draft pick, and Al Horford, a fan favorite in Boston.  The Celtics also signed Dennis Schroder, a starting-caliber point guard, for only 5.9 million dollars.  Schroder had previously turned down a four year, 84 million dollar extension with the Lakers in hopes of a bigger deal before settling for Boston.  
"I think we were really fortunate," said Brad Stevens, the general manager of the Celtics.  Although Boston got rid of some talent, they managed to get young players that can lead the Celtics to a championship in the future, along with more cap space to make a big signing next free agency.
The New York Knicks have also made many positive changes this offseason.  Although they lost Reggie Bullock, a key 3-and-D player who contributed to last season's success, they managed to acquire Evan Fournier from the Celtics and Kemba Walker from the Thunder.  These two can provide the Knicks with the offense that they desperately needed to elevate them as a team.
 "With these signings, they'll be a good team this year," said freshman Kirin Doshi.
The Knicks have also re-signed key players, like fan favorite Derrick Rose and all-star Julius Randle.  With these new roster changes, expect the Knicks to be dark horse contenders in the East. 
"It just feels like something good is happening," said Julius Randle.
Damian Lillard is the superstar of the Portland Trailblazers, and although he was rumored to be leaving this offseason, it now appears that he will be staying for at least another season.
"I'm not leaving PDX," said Lillard, expressing his loyalty to the city where he has played his whole career.
The team is now in win mode, but they have lost many key players, like Carmelo Anthony, and they have not exactly done enough to make up for their losses this offseason.  This free agency, the Trailblazers have done next to nothing.  The only notable moves they have made were re-signing Norman Powell, along with adding a few veterans like Tony Snell and Ben McLemore.
"The Trailblazers are and have been wasting Lillard's prime," said freshman Jayden Doshi.
Unless the Blazers make a big move, which is highly unlikely as free agency comes to an end, this season will probably be another first or second round exit for the team with the West getting more and more competitive.
The Chicago Bulls have had one of their best offseasons in a long time.  After missing the playoffs last season, the Bulls finally look like playoff contenders again.  The San Antonio Spurs are looking weaker heading into this season after losing their star forward, Demar Derozan, to Chicago.  Derozan is known to be an elite scorer and can help Zach Lavine on the offensive end.  The Bulls also signed Lonzo Ball, who has the potential to develop into a star guard for the organization.
Chicago loaded their team with talent and depth and are looking to be one of the top teams in the Eastern conference. 
The Los Angeles Lakers have flooded the headlines during this year's free agency, with many additions to their roster.  Most notably, the acquisition of future hall-of-famer Russell Westbrook via a trade with the Washington Wizards.  Westbrook is a superstar-caliber point guard who puts in ridiculous stats and provides the team with energy and hustle.  
Carmelo Anthony was also signed by the Lakers this offseason.  Anthony provides the team with good scoring and shooting and has good chemistry with Lebron James.  Los Angeles has also signed Kendrick Nunn and Malik Monk, both of whom have potential to be great rotational players.
"I think they'll be good, but I'm not sure if they're good enough to compete against the Nets," said freshman Pantelis Caragiorgis.
With these huge trades and signings for the Lakers, they are certainly a championship favorite next to the Nets.
Overall, many teams saw significant changes to their roster this offseason.  With many players now playing for new teams, this NBA season is going to be super interesting to watch.