Thea Rabman shows out and kills it at the 2021 Junior US Open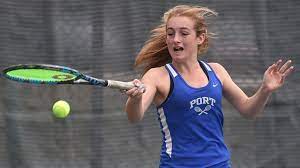 Port Washington's own Thea Rabman participated in this year's 2021 Junior's U.S. Open.  She began playing tennis when she was an infant and started playing varsity tennis at Schreiber when she was only in seventh grade.  Rabman  spends hours every day working on her craft, trying to  better her game.  This year, for the first time in her young career, she qualified and played in Flushing, New York, at her first Grand Slam Tournament.
It was not an easy road to the Open Main Draw, as she had to win two qualifying matches versus Victoria Mboko of Canada and Alejandra Cruz of Mexico.  Her match against number 6 seed Mboko was a tough match.  Rabman won the first set 6-3, but lost the second 2-6.  They went to tiebreakers and Rabman was able to pull away with the victory, 10-4.  Her next matchup was against number eleven seed Cruz, which once again, went to tiebreakers.  She won the first set 6-1, dropped the second set 6-7, and was still able to come out of it with a victory 10-1.  
"At first, I felt like I didn't belong there, but once I got out of my own head, I was truly able to focus and enjoy my experience," said Rabman.  
She entered the tournament unranked but with several games under her belt, giving her a slight advantage over her opponents.  In her first round match of the Juniors U.S. Open, Rabman went up against Laura Hietaranta, a 17 year-old from Finland.  She struggled out of the gate, quickly finding herself down 1-5 in the first set.  However, with her back against the wall, she managed to keep her head in the game, and fought back, winning six games in a row.  She won the second set 6-2 and won the match.  She was filled with all sorts of emotions after winning her match, but it did not truly hit her until later that night.
"I was mostly in shock that I won a round in the U.S. Open, and it just shows that hard work truly does pay off," said Rabman.
She moved on to the second round, where she faced 16 year-old Victoria Jimenez Kasintseva, the number 1 seed from Andorra.  She lost the first set 6-1 and the second 6-0.  Even though she lost, this was a large jump in her tennis career and a great learning experience for her.  Rabman's family and friends were beyond proud of her accomplishments and cannot wait to see how far she will go in the future.
After a tough singles loss, Rabman got a few hours of rest before getting ready for her doubles matches.  Teaming up with Ariana Anazagasty-Pursoo of the United States, the pair went head to head against Ya Yi Yang and Marina Stakusic.  Yang, representing Chinese Taipei, is ranked in the top 1000  for girls singles, while Stakusic (Canadian) ranked in the top 1200 for both singles and doubles.  While neither Rabman nor Pursoo were ranked, they remained unfazed by the competition.  They went toe to toe during the first set, with both pairs exchanging games in an intense battle for the early lead.  Fortunately, Rabman and Pursoo came out on top with a 6-4 win to take a crucial 1-0 set lead.  With the chemistry between the two increasing, the pair felt more confident in the second set, quickly jumping out to a 3-1 lead.  When the opposition tried to mount a comeback, Rabman and Pursoo shut them down quickly, grabbing a commanding 6-3 win in the second set.  Discipline and resilience propelled the girls into the second round, as they committed seven less unforced errors than Yang and Stakusic.
In the next round, the girls met with  a difficult matchup in Mara Guth and Julia Middendorf, who ranked seventh for girls' doubles.  Following a tough 1-6 loss in set one, Rabman and Pursoo fought hard in the second set, tying it at 4-4 before falling 4-6. 
"I can't express how proud the rest of the team and I are of Thea," said girls tennis coach Shane Helfner.  "She is a huge part of our squad, and her hardworking attitude motivates all of us."
Thea gave it her all in one of the most important moments of her sports career, and walked away with a few wins to her name.