Macy's Thanksgiving Day Parade- back and better than ever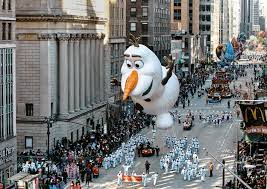 The Macy's Thanksgiving Day Parade is returning to the streets of Manhattan on Nov. 25. The parade is  one of the largest in the world, with over 8,000 participants and millions of viewers across the world. 
"When I think of Thanksgiving, the Macy's Parade is the first thing that comes to mind," said freshman Charlyn Cirrincione. 
Macy's held its first Thanksgiving Day Parade in 1924, and it was referred to as the Macy's Christmas Parade.  Its original purpose was to commemorate Macy's Manhattan flagship store's expansion, which stretched across an entire city block and was self-proclaimed the "World's Largest Store."  As the years went on, it became the famous parade we know today and an iconic part of Thanksgiving. 
 In 2020, Macy's celebrated its 94th anniversary; however, it was greatly altered to fit Covid-19 regulations.  All of the other annual parades held in New York City were canceled that year, such as the St. Patrick's Day Parade, the Pride March, and the Puerto Rican Day Parade, however, The Macy's Thanksgiving Parade was approved with extreme changes. 
 "The parade last year was really different from previous years, and my family was really upset about it because we usually go into the city to watch it," said freshman Alex Goldberg.   
Last year in-person spectators of the parade were prohibited and the event was strictly virtual, accessible only through a mobile device or television.  As for the people that participated in the parade, social distancing was enforced, all participants' temperatures were taken, and a mandatory mask rule was put into effect.  
Instead of following its traditional 2.5 mile route through central Manhattan, the parade was staged around Macy's flagship store in Herald Square.  
After the modified celebration in 2020, this year Macy's plans to welcome back the crowds and in-person audiences.  Macy's said its parade for the 95th anniversary celebration will follow a much longer path than the one block-stretch it took last year, and will feature marching bands and other groups that were unable to appear because of the pandemic.  
After restricting the number of float and air-balloon handlers in the previous year, Macy's will allow between 80 and 100 people to get back under the parade's enormous character balloons this year.  Masks and proof of vaccination will be required for people in the parade, but that rule does not apply to audience members.  After the modified parade last year, Macy's is trying its best to get back to what the Thanksgiving Day Parade is usually like and resume its pre-pandemic traditions. 
"I'm so excited to see what they showcase in the parade this year! I was so sad to see the modifications made last year, but hopefully this year is just like old times," said freshman Stella Felix. 
The parade is expected to display 15 character balloons, 28 floats, 36 novelty and heritage inflatables, over 800 clowns, 10 marching bands, and 9 performing groups, as well as Santa Claus.  Some floats that are going to be featured are Grogu, from the popular TV show The Mandalorian, Ronald McDonald, and Greg Heffley, from the book series Diary of a Wimpy Kid.  The parade begins on West 77th Street & Central Park West and makes its final stop in front of Macy's in Herald Square.  
The Macy's Thanksgiving Day Parade will be airing on NBC and Telemundo from 9 a.m.  to noon, and also will be streamed on Peacock.  Make sure to tune in, and get excited because it's back and better than ever!