The Harder They Fall gives the first realistic portrayal of the Old West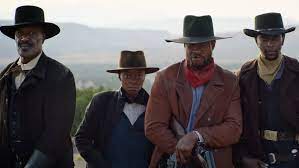 The Harder They Fall is the first Western movie with an entirely black cast.  It has taken real historical figures and brought them together with a riveting fictional storyline.  The film was Jeymes Samuel's directorial debut.  Samuel believes that figures from the Old West have been forgotten and whitewashed. The Harder They Fall revolutionized the portrayal of black people during these times and in this region. 
The director's vision wasn't to portray a separate perspective of the West, but to simply tell the truth about people who have been left out of history books.  His hope was for people to take interest in the characters and look up more about who they really were and how powerful their influence was.
"Black people in period pieces–we're not subservient.  The Harder They Fall is not an alternative viewpoint of the West.  It's actually a realistic viewpoint of the West.  What Hollywood was feeding us for all of those years wasn't an alternative viewpoint of the West—it was just a lie," said Samuel in a Q&A for Netflix. 
The cast is composed of many talented actors and actresses.  Some of the bigger names among them are Idris Elba, Regina King, and LaKeith Stanfield.  Another rising star among them is Jonathan Majors, who recently had a breakout role in the series Lovecraft Country on HBO.  He also recently debuted as an MCU villain in the series finale of the Disney Plus show, Loki.
"I loved watching Jonathan Majors in Loki, and I am interested to see how he is in this movie," said freshman Sydney Foreman.  
The protagonist of the film, Nat Love (Jonathan Majors), is an outlaw who steals from other bank robbers.  He discovers his nemesis, Rufus Buck (Idris Elba), has escaped from prison.  Nat rounds up his gang and seeks revenge on him.  This group consists of his ex-girlfriend, Stagecoach Mary, and his two partners, Bass Reeves and RJ Cyler.  They track down Rufus and the rest of his crew, including Treacherous Trudy Smith and Cherokee Bill.  The ending of the movie is action packed with a major twist, and there's even a tease for a sequel that has fans excited.
"I've never been a huge fan of Western movies, but this plot seems exciting and seems to have a different tone than most I've seen.  I'm also curious to learn more about the characters," said freshman Emma Goldberg.
Although most of the reviews are positive, there is one controversial aspect from people who are concerned with the possible colorist erasure in the film.  There has been a lot of criticism over the casting of Zazie Beetz, a light-skinned actress who plays the role of Stagecoach Mary, because the actual person was not light-skinned.  Mary was a real historical figure who was the first black female mail carrier in the US.  The director responded by saying he wasn't upset with the points critics were making; however, he said that it is a fictional story and other actors also have different skin colors than the people they were portraying. 
"It's sad to me and very insulting to the actor who is looked at as 'not black enough'," said Samuel.
Jeymes Samuel's film has been applauded for trying to correct the absence of black people in a genre they have been excluded from.  American Western stories have been whitewashed for so long and this movie is working towards eliminating this deeply rooted prejudice in Hollywood.  
The movie is a Netflix original and is available to watch with a subscription.  It's described as an American Western action drama, and was released in theaters on October 22.  It began streaming on November 3.