The Schreiber Theater Company is back with an in-person performance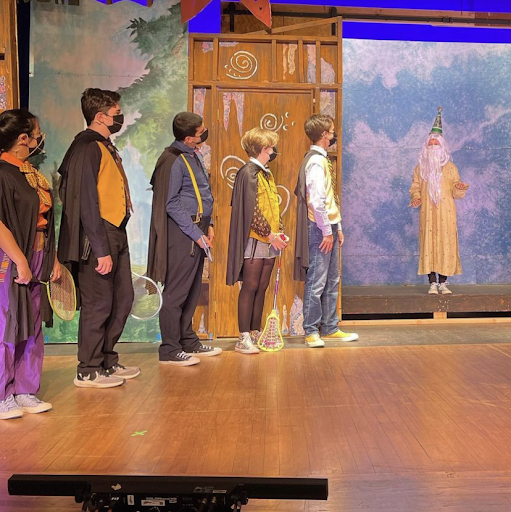 Since the school closure in March of 2020, every play that the STC produced has been virtual or pre-filmed.  On Nov. 19, 20, and 21, however, the theater doors will open again with Puffs: or Seven Increasingly Eventful Years at a Certain School of Magic and Magic.  
"I think the best part about Puffs is that it marks our return to live theater, which is something that I think the students and staff really missed last year.  Not only is this show heartwarming and funny, but I think that what it represents is equally as meaningful," said Ms. Lauren Foster-Holzer, the show's producer.  
Puffs is a comedic play, created by American author Matt Cox.  It follows the life of Wayne Hopkins, a boy who discovers that he is a wizard and goes to learn, over the course of seven years, at a "certain school of magic and magic. " 
Most people know the story of "a certain boy named Harry" who is placed into the "Brave house" and spends seven years at the "certain school" referenced above.  However, this story is different because it follows the lives of Wayne Hopkins and his fellow "Puffs. " 
"Puffs is a spoof of Harry Potter in which viewers see this world from a different point of view as they dive into the world of the "Puffs," said senior and stage manager Raina Persaud.
The play spans seven years and presents a wide array of characters.  This requires many of the sixteen cast members to double in a variety of roles and is one of the things that makes this performance so special for both the actors and the audience.  Seniors Miles Engel, Alex Parker, Lara Ozcayir, Emily Djohan, Allyson Currier, and Natalie Parker, sophomores Sean Banks and Sabrina Grossman, and freshman James Kott will all play many different roles, ranging from "Death Buddy" to "Hermiones #1, #2, and #3." Additionally, we will see junior Gaia Dash, as the narrator, junior Chris Williams as Wayne Hopkins, freshman Max Siskin as Oliver Rivers, senior Hannah Brooks as Megan Jones, junior Bryson Shaub as Cedric/Mr. Voldy, sophomore Averie Masia as Harry P., and freshman Victoria Von Roeschlaub as Xavia Jones/Mr. Bagman.  
"Puffs has been a truly magical experience, and I really enjoyed being a part of it.  Everyone should come see it because it'll be a fantastic production," said freshman Max Siskin. 
"It's a very fun experience.  There's a lot of funny jokes and it's a blast to be a part of it," said senior Allyson Currier.  
As well as the actors, there is also an incredible behind-the-scenes production team that has been dedicated to producing a great show for the audience.  Ms. Christine Nelson directs the play and Ms.  Lauren Foster-Holzer is the producer.  Additionally, Mr. Aaron Prindle works as the technical director and crew coordinator, Ms. Leah Siskin is the show prop designer, Ms. Helen Albertson & Mr. Richie Albertson work as set builders and painters, Ms. Deborah Brooks is the costume constructor and supporter, and Mr. Michael Siskin works as the show's photographer.  Lastly, Raina Persaud & Talia Sinclair lead the student crew and work as the designated production assistants and stage managers.  
"This show is very sound dependent and tech intensive.  There's a lot of cool sound and lighting effects,"  said freshman sound technician Ben Gordon. 
Even though the play will be back in the building, there will still be strict COVID-19 protocols enacted to keep everyone safe during the show.  For example, there will be assigned seats, with every other seat being occupied.  Also, everyone who comes to the show will be required to wear a mask.  
"I'm very excited for Puffs this fall because it is one of the first in-person performances I've been in since COVID started.  It's a very fast-paced play and there's not a moment where you aren't laughing.  I'm so excited for everyone to see it and for live theater to be back at Schreiber," said sophomore Averie Masia.  
If you are interested in watching the performance, it will take place on Nov. 19 and 20 at 7:30 p.m. as well as on Nov. 20 and 21 at 2 p.m.  For tickets and more information, please visit www. portnet.org/schreiber.