Frank's Pizzeria is closing down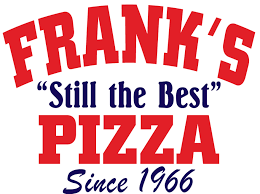 Frank's Pizza has been serving food to generations of Port Washington families for over 55 years.  Owned and operated by Port native Linda Colombo, the beloved restaurant recently closed its doors.  The restaurant was well-known for its garlic knots, latkes, chicken soup, and, most notably, pizza.  It was a place where customers could enter, grab a stool, receive a warm welcome, and eat a delicious, hot meal at the end of a long day. 
Frank's was established in 1966 and was not always the modern restaurant that we knew and enjoyed in recent years.  Originally, Frank's only sold pizzas, heroes, and hamburgers and was one of only two pizzerias in town.  The restaurant's namesake, the original "Frank," is Colombo's father, and he owned the store for 16 years.  When Linda began to lead the local business, she made vast, sweeping menu changes, adding pasta, soup, salad, and more, to create a more modern dining experience.  However, there were still homages to her father and in the 1960's, the era of Frank's founding, displayed around the store, especially in the forms of posters, memorabilia, and photos of the original restaurant and pizza ovens.  
"Even though the chicken soup and garlic knots have become the most famous items at Frank's Pizzeria, my favorite dish to make was pizza, no matter what," said Colombo.  
Frank's chicken soup has been recognized for its top-notch taste, winning the Kid's Choice Award at the 2019 Port Washington SOUPer bowl.  Additionally, Frank's also evolved to add vegetarian options to their menu, including zucchini linguini and cauliflower pizza.  Colombo assured her customers that there was something for everyone to eat with an approximately 105-dish menu that spanned from meatballs to omelets. In addition to the food, there were also arcade games that customers of all ages could use in the restaurant, which added to the family feel of the pizzeria.
"Personally, the salads and pitas were my favorite foods to buy from Frank's.  They were always tasty, and were something quick and easy to grab after school, " said freshman Myla Tannenbaum.  
The pizzeria also had a local influence, connecting with the Port Washington community in countless ways, including selling latkes during the Jewish holidays, participating in the annual Port Washington SOUPer bowl, and selling prepared food boxes for the actual Super Bowl.  Furthermore, Linda and her employees partnered with the Port elementary schools annually for "Pizza Day," an in-person workshop, where each student was provided the opportunity and ingredients to create their own personalized pizzas and calzones.  Even when this workshop was not running in schools, Colombo offered make-your-own pizza kits that were available for purchase, giving everyone a chance to experience the fun of making pizza with friends and family.
"My favorite experience with the community was definitely the pizza workshop.  We would go to all the elementary schools and teach everyone to make pizza.  A great time was always had by all," said Colombo.
One of the most memorable elements of Frank's Pizzeria ambiance were the giant collages of photos, consisting of past and present customers spending time at the pizzeria.  Customers would play a form of "Where's Waldo," searching for themselves on the photo boards. 
Frank's has affected almost everyone in Port Washington, whether for its beloved food or cheerful, comforting atmosphere.  People from all over town, who came for a slice of pizza or the famous garlic knots, ended up chatting and laughing with Colombo at the counter.  Frank's was also an extremely popular place for parents and kids to stop by after school due to its amazing location on Main Street; that student tradition at the restaurant had persisted for decades.
"I know Frank's has had a great impact on the community.  The many people coming in to have lunch with me, and the many kids that turned into adults and come into Frank's with their kids makes it a really wonderful place and was very fulfilling for me," said Colombo.  
In addition, the pizzeria had sponsored a multitude of programs and events around Port Washington, such as the Port Summer Show and performances at the Landmark Theater on Main Street.  Frank's was also a large contributor to Port Outdoors, a summer eating event, where restaurants offered outdoor dining every Thursday evening.
Like most restaurants, the Covid-19 pandemic had a substantial impact on Frank's.  Hit hard by the lockdown and general customer uneasiness about eating out, the pizzeria saw a decrease in sales and attempted, in vain, to get back on its feet.  Due to the extraordinary challenges that ran throughout the entire Port restaurant community, CNBC aired a special on Frank's.
"The pandemic really made my business very difficult: having trouble finding all my quality items, and finding people to work," said Colombo in the interview.  
Due to the combination of the residual effects of the pandemic, legal issues, staffing shortages, and Colombo's thoughts of retirement, the pizzeria announced its closure on Nov. 21, 2021.  However, outpouring community support prompted an extension of that closing date to Dec. 3.  Colombo did not want to leave her customers without her famous latkes for Hanukkah!  Hundreds of encouraging and kind comments wishing Colombo luck and good fortune flooded in, as the business entered its final weeks.
"While myself and many others are sad that Frank's is closing, since it's been in town for so long and was a great place to eat in or just hang out in, I hope Linda has an amazing retirement," said freshman Marley Coren. 
Soon after her Dec. closing announcement, Colombo told the public why she was shutting the doors of the town's beloved pizzeria.  
"I am turning 65, and I am looking forward to having my days filled with traveling, reading and watching live music," said Colombo. 
Colombo, excited for what is to come in her life, was amazed by the amount of love she received from people all over Port Washington.  The community residents have also offered tremendous support for Franks' chefs and employees.  Since many who worked at Frank's will be moving on to new jobs, many have sent positive messages wishing the employees good luck in their future endeavors.
Although Frank's will no longer physically be in its location, everyone who passes by will remember Franks' welcoming, family atmosphere and flavorful food.  The Schreiber Times thanks Linda Colombo for all she and her family have given Port and wishes her a fulfilling and wonderful retirement.