St. Peter's Peacocks cinderella run comes to an end in the Elite Eight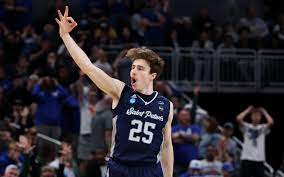 Going into March Madness, who would have thought that a 15-seed would make it to the Elite Eight?  Saint Peter's University, coached by Shaheen Holloway, went on a historic run being the first 15-seed ever to make it that far.  
St. Peter's has approximately 2,500 students and is located in Jersey City, New Jersey.  The school spans across 25 acres, which is tiny compared to a big school such as Duke, which spans over 8,000 acres.  The majority of their team consists of unheralded recruits, who were ranked between zero and three stars coming out of high school.  KC Ndefo, Doug Edert, Matthew Lee, and Daryl Banks were all significant contributors to St. Peter's success.  
 It all started with drama in the first round, when St. Peter's defeated Kentucky, one of the favorites to win the championship.  In fact, according to ESPN, more people picked Kentucky to win it all than St. Peter's to beat Kentucky. 
"I don't think anyone had St. Peter's going as far as they did.  For me, I luckily had Kentcky losing in the Elite Eight, compared to most of the other brackets in my pool that had Kentucky in the finals or final four," said sophomore Max Baum.
Kentucky, led by Oscar Tshiebwe and TyTy Washington, were a dominant force throughout the regular season and were one of the favorites to win the tournament.  The game was very high scoring to start, and they ended up being tied after the first half.  As the game progressed, each team continued to respond to one another's buckets.  There were 13 lead changes in the thrilling game that ultimately went to overtime.  Basketball fans everywhere began getting flashbacks of when 15-seed Oral Roberts beat two-seed Ohio State in overtime last year.  Tshiebwe's 30 points and 16 rebounds were not enough to stop Doug Edert, who led the Peacocks in scoring with 20 as St. Peter's won by a score of 85-79.  The Peacocks advanced to the round of 32, where they faced the Murray State Racers.
St. Peter's looked to become the third 15-seed ever to make it into the Sweet Sixteen.  They started the game strong, ending the first half with a five-point lead over the Racers.  It was a back and forth game, but Murray State never stood a chance.  KC Ndefo led the charge with 17 points and Doug Edert followed by scoring 13 points.  In the end, the Peacocks could not be stopped, as they shot 42 percent from the field and won by a final score of 70-60, advancing them to face the Purdue Boilermakers who came off a big win against Texas.
St. Peter's was known for their pressure defense around all parts of the court.  When they played against Jaden Ivey and the Purdue Boilermakers in the Sweet Sixteen, their strong defense helped contain Ivey and strong three point shooter Sasha Stefanovic.  Zach Edey, a 7'4" center, was another concern going into the game for the Peacocks, but Ndefo figured out how to limit him from scoring.  The first half was back and forth, but Purdue led 33-29 at the break.  With time winding down, St. Peters took the lead.  Jaden Ivey missed a three-pointer that would have forced the game to overtime, and the Peacocks won the thriller by a score of 67-64.  
"Doug Edert didn't have his best game, but he hit clutch shots.  Doug was my favorite player, because he was very energetic and skilled," said junior Jack Marcus.  
Becoming the first 15-seed to ever make the Elite Eight, St. Peter's matched up against the North Carolina Tar Heels.  UNC was coming off two impressive wins against Baylor and UCLA, and were playing stellar basketball.  The Tar Heels killed St. Peters in the first half, and were up 38-19.  St. Peters cut the deficit to 15 at one point in the second, but could never come closer than that.  UNC won by 20. St. Peter's cinderella run was over.
Despite the tough loss to end their phenomenal run, their season will always be remembered.  
"Despite the fact that 15 seeds have proved themselves in the past two years, I still don't think I would have the guts to pick a 15 seed over a 2 seed," said junior Zac Silfin.  
While many of the St. Peter's players have entered the transfer portal, all of the fans hope to see them back in the big dance next year.