Candytopia has Returned to New York for the First Time since it Closed in 2018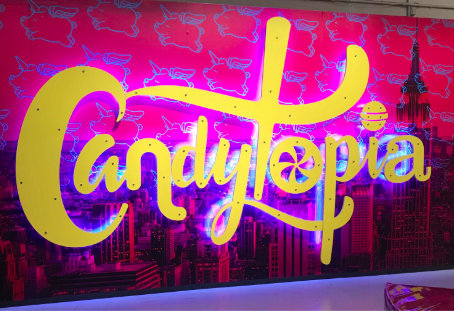 One of New York City's most unique museums for all ages, Candytopia, returned on Apr. 29.  Their new location is near Penn Station, on 111 West 32nd Street..  Although they have made some alterations to their procedures due to COVID-19, the museum has still managed to add more interactive rooms, adding to a total of 17..  The traveling exhibit is returning to New York for the first time since 2018, however, in the summer of 2021 it appeared in Philadelphia and Atlanta.  New Yorkers are thrilled to welcome back the exhibit and are ecstatic to explore the additions to this fun getaway.   
"We're thrilled to be returning to New York City, where we were so warmly welcomed in 2018.  We've created an updated experience that our guests will find familiar, but with plenty of new surprises and additional rooms to discover," said CEO of Candytopia, John Goodman to whom, where was this quote given.  
The opening of Candytopia can be credited to Co-Founder and Co-Creator, Jackie Sorkin's creativity. She grew up in California and was obsessed with the film Willy Wonka & the Chocolate Factory as a child.  She had also always loved art and eventually began experimenting with the use of candy in her work.   After a lot of hard work, Sorkin was eventually given her own T.V. show, Candy Queen.  Because of its success, she had many long-running art installations throughout Southeast Asia featuring her notorious candy cities.  Sorkin loves the pop culture aspect of her art.  She later decided to team up with retail expert John Goodman and production designer Zac Harog to make her lifelong dream of her own magical candy factory come true. Candytopia was established. 
"I remember watching Candy Queen when I was a little kid and being obsessed.  I used to think it was cool just because of its outward appearance and because of the fact it was candy, but now I can appreciate it so much more by understanding how intricate and detailed the sculptures really are," said freshman Ryann Engel.  
The company's Co-CEOs John Goodman and Jackie Sorkin have collaborated with their team and worked hard to make Candytopia safe for people with all kinds of accommodations.  They've made notable changes in all aspects of the visit,  such as installing hand sanitizer dispensers throughout the location and increasing disinfection, especially in between group time slots.  They have also mandated face coverings and urge visitors to bring their own.  
"When I heard Candytopia was reopening in NYC, I was super excited but also super curious how they could handle COVID-19 procedures in such a communal space.  They definitely seem to be on top of everything now, and it's super impressive that they care so much for their guests' safety," said freshman Emma Goldberg.  
There are countless unique experiences within Candytopia.  Some main attractions inside include the infinity mirror room, a ring swing garden, and even an indoor zip line.  Another is the marshmallow pit at the very end of the tour.  It's made up of over 250,000 plush marshmallow shaped foam pieces.  Another popular exhibit is when visitors are blasted with confetti.  In this room, there are even little pigs that spew out candy.  Part of the whole experience is stopping at the sugar high theater and watching performances there too.  
"On Instagram, I've seen so many people post pictures in the marshmallow pit and slow motion videos of them jumping in.  It seems like such a fun experience from everything I've seen online, and I definitely am considering buying tickets," said freshman Eva Franchetti.  
The heart of Candytopia is the extravagant art they create.  Because of this, they dedicated a room to being an art gallery space.  This features candy portraits of cultural icons like Billy Joel, Mona Lisa, Frank Sinatra, and of course Willy Wonka.  There's also a sculpture of the Sphinx based off the monument in Egypt and is incredibly detailed.  Just walking around, one can notice plenty of other artwork sprinkled in.  As visitors make their way around the exhibits, they will encounter a giant gummy bear, a massive candy dragon sculpture, and even giant lollipops.  
New ticket options are released every Monday at 9 a.m.  It's suggested to book tickets in advance online as spots are high in demand.  For kids ages zero to three, tickets are free, but they are $29 for kids ages four to twelve.  For adults (13 and up), tickets are $39 each.  Candytopia is a great option for families, groups of friends, or even school trips.  They have a wide variety of activities to offer, making this experience available for all ages.