College Corner: Michigan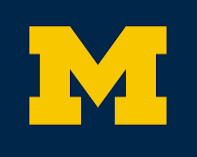 For many seniors, one of the biggest struggles during the application process is deciding which school is best, as there are so many different colleges to consider.  One school to consider is the University of Michigan.  In fact, for students such as Schreiber alumni Abbie Garfin (Class of '21), it was the perfect fit. 
The University of Michigan is well renowned for its beautiful, large campus and its impressive academic and sports facilities.  The city of Ann Arbor is considered one of the nation's best college towns and provides a great environment for students to bike and participate in the city's art and cultural life.  Michigan's campus in itself is so large, over 3,000 acres of land, so there are plenty of activities to do around campus. Michigan also has a wide variety of programs that will meet all of your academic needs. 
"I chose Michigan for so many reasons, but it has also been my dream school since the day I was born.  With two alumni parents, I have grown up going to so many Michigan football and basketball games.  The energy, happiness, and community fills the stadiums.  When I visited Michigan I fell in love with how spirited the campus was – all of the stores and restaurants were Michigan fans and you could always find a friendly face walking around.  Obviously the greatest attraction that pulled me towards Michigan was the excellent academics and amazing professors at the University," said Abbie Garfin.
Michigan is an extremely well regarded school, and in fact,is ranked the 3rd Top Public Schools in America by US News and World Report.  They also have one of the best football teams in the Big Ten League and a large blue and yellow stadium to accompany the many spirited college students!
"One of my favorite things to do on campus is take walks with my friends when it's nice out, especially in the arboretum.  It's a great study break that helps take your mind off the workload while spending time with friends and taking in the beauty.  The best and most exciting spot on campus is definitely The Big House. The Big House is the Michigan football stadium, and it is called this because it's the largest football stadium in the nation," said Garfin. 
Along with football, Michigan has so many other highly ranked sports teams that keep the school at such a high reputation- some may say they are one of the top athletic institutions in the world.  The list of games to go see with your friends are endless when it comes to hockey, basketball, golf, swim, wrestling, and cross country, and those are just the ones ranked in the top15 of their respective sports.
"Michigan has amazing and really fun football, basketball, and hockey games.  Going to the games with friends during all the different seasons is so exciting and helps build your love and connection for the school.  Everyone is always so spirited and excited to be there! Something that I think makes Michigan so special is that you can always, without a doubt, find someone to go to any of the games with and people bond over their love for the Michigan sports games," said Abbie Garfin. 
While sports are a great way to get together with your friends, clubs are another great way to do so as well, especially if you are a freshman trying to meet new people. Michigan offers more than 1,600 student-run clubs tailored to shape student and community engagement. 
"At such a big school like Michigan, there is basically any club you can imagine.  From basic clubs about business, pre-med, pre-law, fundraising, and philanthropies, to squirrel feeding clubs, acapella groups, ninja warrior clubs, and food instagram clubs, people can find their place in any club they are interested in.  One of the clubs that I think is really fun is SPOON.  This is an instagram account that posts all different food pictures and recommendations around Ann Arbor. Along with all of these clubs, University of Michigan has a strong Greek-life that many people choose to join, including myself! It is a great way to make friends and find people similar to you while also getting involved in your college campus," said Garfin. 
Because Michigan's campus is so vast, students are constantly finding new things to do and places to see while away from their desks.  Especially since many college students are on a budget, staying on campus is ideal as things begin to get more expensive spending nights  off campus.  However, Michigan's versatile campus can simply never get old.  
"Since I have only completed my freshman year, and Michigan has such a huge campus, I don't find myself going off campus often. Ordering Ubers can be annoying and the campus itself has so much to offer.  One of the off campus activities that is very popular is going to the lake. It is a 15 minute drive from campus and it is a really fun activity with friends on a nice day.  Besides that, people sometimes go off campus to new restaurants but since there are so many amazing places on campus, that isn't very common," said Abbie Garfin.
Many students also find themselves relaxing and engaging in leisure activities on campus or in between buildings. 
"When people first step foot on campus, they might feel intimidated by how spread out the campus is. Once you are there for even a week, it is very easy to make a big campus feel small. A majority of your classes will be a 10 minute walk or less from each other and they are usually located in central locations. Some of the buildings, like the Law Quad, are old buildings that are beautifully designed with stained glass windows and have a really nice open area of grass to have picnics, do work, or tan on a nice day. Other buildings, like Ross Business School, are more modern and have tons of natural light – this is something I love about it and it has great rooms to do work in. Michigan's campus. It is truly beautiful, has so many amazing shops, restaurants, and school buildings," said Abbie. 
Although there are so many schools to apply to, the University of Michigan should be one to consider if academics, sports, and campus life are all on your list.