Olivia Rodrigo's tour certainly isn't Sour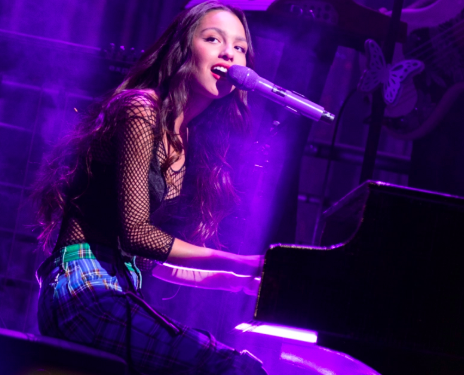 Olivia Rodrigo's Sour tour recently arrived in the Big Apple.  On Apr. 26 and Apr. 27, Radio City Music Hall hosted one of the most anticipated music tours of the year.  If you aren't familiar with Olivia Rodrigo, her 2021 single "Driver's License" blasted her into stardom and prompted her to release her award-winning breakout album.  Her debut album, SOUR, is the basis for her Sour tour and explores the "sour" emotions she dealt with throughout her teenage years. 
Olivia's tour began on Apr. 5 in Portland, Oregon and is scheduled to end on July 7 in London (totaling 48 shows).  Immediately after tickets for the tour sold out, Olivia posted on Instagram, "This is my very first tour and I'm so nervous but so excited to sing and dance the night away with you all!!!" Although the Sour tour is Olivia's first ever tour, she isn't doing it alone. Singer-songwriters Gracie Abrams, Holly Humberstone, and Chappell Roan will serve as Rodrigo's opening acts, along with UK-based singer Baby Queen. During the SOUR TOUR's stop in New York City, Holly Humberstone took Gracie Abrams' place as Rodrigo's opening act, performing a number of songs including her first single, "Deep End." 
"Opener Holly Humberstone got an impressively strong response from the hardcore Rodrigo crowd, especially considering the number of slower songs in her set and the fact that she performed completely solo," said critic Jem Aswad in Variety Magazine.
The set list of Rodrigo's tour is constantly changing, however its permanent members are the 11 songs that make up her album Sour, including the ever-popular "Drivers License" and "Good 4 U."  At Radio City, Olivia added three songs to her tracklist: "All I Want" (from her show High School Musical: The Musical: The Series), along with covers of Avril Lavigne's "Complicated" and Veruca Salt's "Seether." 
"I thought it was a great concert!  Her set was amazing and it was really impressive especially since she's so young!  Overall 10/10!" said senior Talya Pecullan. 
During her NYC stop on the tour, Olivia performed at Radio City Music Hall, decking out the stage with colored streamers and lights.  Although the set was minimalistic, Olivia utilized her piano and guitar for the acoustic songs on her setlist, including "Hope Ur Ok" and "Drivers License." 
"I love Olivia so much!  She sounded incredible and she has great stage presence. Her singing voice also sounded even better than it does on the recordings.  It was so much fun!" said sophomore Tess Romero. 
Unlike most concerts, the Sour tour in New York City actually had a dress-code.  Before the concert, Olivia asked all of her fans to wear prom outfits for her Sour PROM-inspired night. Most showgoers made their own prom looks (including DIY Sour-themed jewelry) whereas others dressed up in Olivia's style entirely, wearing fishnet stockings, plaid pleated skirts, mini dresses, and platform boots (her staple accessory).  Some fans, on the other hand, weren't as enthusiastic as expected. 
"I wish the crowd was more energetic, but Olivia herself was amazing.  I was honestly shocked at what a talented performer Olivia was considering it was one of her first few shows" said sophomore Holly Sternlicht. 
Although the Sour tour has left New York City, there are still plenty of shows left if you are hoping to attend one. You might just have to use your driver's license to get to one.