Pi Day 2022: Joy to the World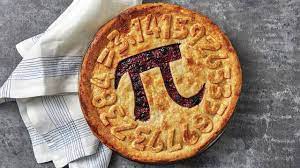 Even for those who are not math lovers, the first three numbers of Pi are well-known—it is impossible to escape the 3.14 throughout one's educational career.  The majority of people can identify this irrational number by the well-known Greek symbol "π."  The number has infinite decimal places, and so far, there have been 1 trillion of these decimal places calculated.  Coincidentally, one day each year lines up with the first three numbers of pi: March 14.  This year marked the 33rd celebration of the number.
The founder of this celebratory day is physicist Larry Shaw.  He started this tradition on March 14, 1988, not only because it lined up with the first three values of pi, but also because it coincided with Albert Einstein's birthday.  Shaw held the first celebration at the famous San Francisco Exploratorium, and in 2009, the United States House of Representatives passed a bill officially recognizing March 14 as a national holiday for Pi.  Six years after this legislation was passed, math enthusiasts had an extra special treat: they were able to observe Pi Day on 3/14/15 at 9:26:53 am, which are the first ten digits of Pi.  Pi Day is typically celebrated by completing math problems and eating ceremonial pies.
"Pi Day reminds me about how influential math is in my everyday life.  Every time I see a circle, that's Pi.  I think this day is a good way to celebrate how math is important and how you find it everywhere," said junior Chloe Weshler.
Every year, Mu Alpha Theta sponsors a Pi Day celebration and encourages students of all grades to participate.  Something unique about the Schreiber's celebration of Pi Day is that they create a new theme each year; this year, the theme was Joy To The World.  Most teachers across grade levels encouraged their students to participate in the holiday by giving extra credit points for the students who took part in the initiative.
"The theme this year was Joy To The World, and I really liked it because it reminded me of Christmas and holidays, which is always a fun time of year.  I worked with my friend, and we made a poster, including various holiday objects out of the digits of Pi to fit the theme.  It was a very fun project because we were able to make a fun design while also getting credit for math class," said sophomore Averie Masia 
For Pi Day at Schreiber, creativity seems to be a winner.  Students were encouraged to create any type of project they could think of, ranging from edible treats to original prose.  Competition categories included poetry, game design, music, and poster projects.  The best in each category were decided by Mu Alpha Theta, and they earned a shout-out over the loudspeaker during the morning announcements. 
"Pi Day was super fun this year.  I made a circular cake and decorated it with Pi symbols to bring to my celebration in math class," said junior Danielle Hiller.
Pi Day is a great light-hearted way to have fun with math.  Some who take part in the holiday commit to eating only circle foods for the day and to participate in Pi memorization contests.  Those who are not as passionate but still want to commemorate the holiday might dedicate some of the day to doing math problems, eating Greek food, or baking and sharing a pie with friends.