The Dropout exposes Elizabeth Holmes as she awaits her sentencing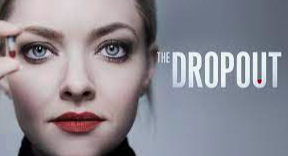 Recently, shows like Euphoria and Ozark have dominated the entertainment industry, but small miniseries also enjoy great popularity.  The Queen's Gambit, for example, aired on Netflix in late 2020, and millions watched..  This year, Hulu released a miniseries which focused on the failure of entrepreneur Elizabeth Holmes' groundbreaking company, Theranos.  The Dropout details the initial success and the many failures that the company experienced.
"I usually like longer TV shows with multiple seasons because they are fun and complicated, but recently I have tried watching shorter miniseries and I really like them because they have less time to tell the story, so there is a lot of action. I might watch The Dropout because I have heard about the real-life events that it is based on, and I want to learn more about what happened and why that company failed," said junior Sean Mondschein.
With the first episodes airing on Mar. 3, the show released eight episodes that culminated in the finale on Apr.l 7.  The Dropout has an impressive cast, led by acclaimed actress Amanda Seyfried, who starred in Mean Girls and Mamma Mia.  Directed by Johnny Mic, the show was filmed in 2021 in California before its release this year.
"I remember watching Mamma Mia a long time ago, and I always thought it was a fun, happy movie, so I am interested to see how Amanda Seyfried acts in a more serious role," said junior Antonio Sottile.
The show starts with Holmes in an interview that is held because of the investigations surrounding her company.  It then cuts back to explain the story behind how she got there.  Since the show is based on real-life events, much of the backstory is important in understanding the rise and fall of Holmes and Theranos. 
Holmes began as a student at Stanford University and while was there she came up with an idea for a potentially revolutionary medical technology that would change current practice.  Her plan was to create a small box-shaped device that could test a drop of a person's blood to see if they have any diseases and to provide a diagnosis.  Some of theprofessors tell her to give up on the plan, but she chooses to go forward, dropping out of Stanford to pursue the idea.
Over the course of the show, she begins to construct her company and develop the product. Holmes begins to reach out and make connections, eventually securing a deal with Walgreens, despite the fact that her product was not extensively tested. 
Unfortunately, because of her ambition and hope for the success of her project, Holmes rushed to bring it to the market. As it turns out, the product did not work properly, yet Holmes and her associate Ramesh "Sunny" Balwani continued to support it. Ultimately, they were caught and charged with fraud and several other crimes.
"I remember hearing about this situation a few years ago. I thought Theranos' box was really cool, but I could not see how it would work well. I thought it would be great because it would be amazing to have one small box that could test for all sorts of diseases, but testing one drop of blood for diseases did not seem possible," said freshman Ryan Regan.
Critics have mixed opinions on The Dropout. IMDB gives the show a rating of 7.5/10, while Rotten Tomatoes critics gave it an 89 percent approval rating. 
There seems to be a consensus among critics that Amanda Seyfried skilfully and accurately portrays the ambitious Holmes, but some argue that aside from the incredible lead performances, the show came up short. 
The Dropout certainly seems like a great show that tells the story of an overly ambitious attempt to force her invention to succeed.  Viewers can now see the future of Elizabeth Holmes play out in real life as her sentencing was set for Sept. 2022.