Local Art Exhibits Welcome in the Spring Season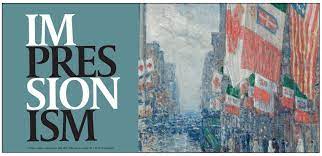 The start of springtime brings opportunities to visit new art exhibitions on Long Island and in New York City.  
An exhibit showcasing an admired art movement, Impressionism, is opening on Mar. 19 at the Nassau County Museum of Art.  The exhibit, titled "Impressionism: A World View," is on display from Mar. 19 to July 10.  It includes masterpieces by prominent contemporary artists, such as Ross Bleckner, Max Kozloff, Mark Innerst, and Jane Wilson.  Upon entering the exhibit, visitors will be welcomed by impressionist portraits and landscapes crafted by people from all over the world.  
"I think the exhibit sounds pretty cool, impressionism is so commonly discussed yet it's still one of the most interesting movements of classical painting. It's nice that it's going to be in the Nassau County Museum of Art, which is a lot more close by than Manhattan, making it more accessible for some people to go to. The fact that it has impressionist paintings that aren't from the height of the movement in Europe is also interesting, I haven't heard of any of those in art exhibits I've been to before so it'll be cool to see," said freshman Chiara Amodeo.
In addition to the exhibition, other programs are available at the Nassau County Museum of Art.  Orchestral and chamber performances will present the work of famous French composers, including Claude Debussy and Gabriel Fauré.  Artist talks and lectures will accompany the exhibition as well.  
Additionally, an art exhibit by Peter Nolan will be showcasing veil paintings in Northport..  This art exhibition is free and will be open to the public from Mar. 12 to Apr. 11.  Veil painting is a meditative form of art that references impressionism and abstract expressionism.  It involves layers of brushstrokes and pure colors that create grand scopes of color.  This exhibition will be located at 77 Main Street in Northport.
"I genuinely think veil paintings take talent and work and honestly turn out beautiful, and really, everyone should see them at some point," said freshman Kiara Adams.
Further away from Long Island is a unique, immersive installation that presents technology-driven art.  Artechouse is located in the Chelsea neighborhood of Manhattan,and is presenting the audiovisual art exhibit "Trust" from Jan. 31 through May 30.  This immersive art exhibit is in collaboration with fuse, and it depicts how trust influences our realities.  The artwork displays how trust is affected by historical events in the past, and how it will continue to build and change itself in the future.  Once you step inside, you will be surrounded by an explosion of colors and visuals, making it an unforgettable art exhibition.
"The first image I saw of this place made my jaw drop.  It looked like a different place in every picture I saw.  The vivid colors and detailed architecture look unreal.  The art is like something I had never seen before.  Honestly, it looked like a different world!  It is a place I would love to explore.  Go visit the exhibit if you want to turn those pictures into a reality," said sophomore Jake Restivo.
Nearby, also in New York City, is another unique art exhibit like no other called "Particular Matter(s)."  Presented by Tomás Saraceno, it is The Shed's newest and largest exhibition.  It features a gallery of artwork in addition to a one-of-a-kind sensory experience.  Inside, visitors can step out onto a web suspended 40 feet above the ground, and will be immersed in darkness.  The art gallery is just as remarkable.  This exhibit is inspired by the webs of spiders, and it encourages communication.  It is truly one of the most unique art exhibits, and it is available to the public from Feb. 11 to Apr. 17.
"Particular Matter(s) impressed me and I was very interested in the concept.  So much of art focuses on visual content that omitting that sense to accentuate others is something that appeals to me.  The spider webs also look pretty cool and add a cool element to the overall concept.  I would love to go at some point!" said freshman Dante Del Vecchio.
From Long Island to New York City, there are many art exhibits nearby that display many different types of art and are available to visit this spring.