Pride representation is encouraged, but not when it is used for corporate profit.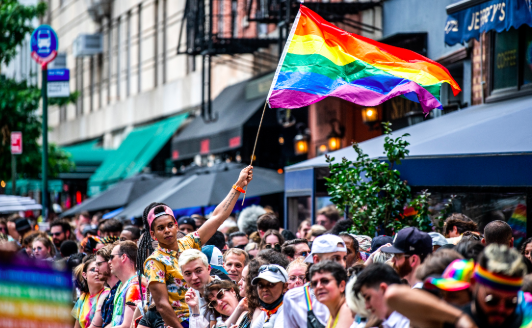 June is known as pride month, a time for LGBTQ+ celebration and visibility.  It is important to remember the hardships that the LGBTQ+ community has faced and the progress the community has made, especially in the past few decades.  Pride month provides an opportunity for members of the community and allies to come together, commemorate, and support one another.  
Pride month started not as a celebration, but as a protest. On June 28, 1969, the Stonewall Riots took place.  These riots were the response of the queer community to an unjust police raid on the Stonewall Inn,a bar in Greenwhich Village neighborhood in Manhattan.  During this time, any acts of homosexuality were illegal  in nearly every state.  
"You are no longer going to control us.  You're no longer going to dominate us.  We're going to create our identity.  We're going to create a community where you wouldn't allow us to have community," said Stonewall protester Mark Segal. (where was this said, how do we know)
To recognize and honor the LGBTQ+ community, many  businesses get involved in the celebration.  Some change their logo to a rainbow version, with many changing their commercials and products to fit the pride month theme.  
"I think it is a great thing for companies to do because they are able to show their alliance with the LGBTQ+ community and that they support them," said senior Stefanie Carta.
  This can be considered true, as it raises awareness for any causes related to the LGBTQ+ community when popular companies take part. Pride month has become a symbol of Stonewall and the many other fights for equality that LGBTQ+ community has faced, as well as a chance for people to unite.
While many companies show their support by putting out lines of LGBTQ+ themed products and merchandise, there are also many that do it purely for profits; they throw around rainbows and "Love is Love"-type slogans to turn a quick penny. 
When asked, "What do you think of companies that change their logo and their products to an LGBTQ+ theme during pride month?" a handful of Schreiber students had similar responses. 
"I think that as long as the companies don't go overboard, it is a great way to pay respect to the community, as well as show that they are on their side.  Sometimes when brands go overboard, it can send the message that they really just want people to think that they're an ally, when in reality they may not actually be one," said junior Angelina Galanis. 
"I think their display of support is admirable, and it's especially important for companies to do so during pride month. However, I hope that the companies aren't only advertising their support for appearances, but that they also take actions to support the LGBTQ+ community all year round," said junior Esperanza Cassidy. 
"It is nice to know that the company is supportive and an ally, but you have to take a deeper look at what the company is doing all year round, and not just during pride month. Their actions should be going beyond the marketing tool to sell products during pride," said junior Lola Gitlin.
"I think it is great that large companies recognize the LGBTQ+ community during pride month by changing their logos. However, I wish they dedicated that same level of acknowledgement year round and not simply during that month," said senior Amber Kakkar. 
All of these students have the same reservations that companies' so-called "support" for the LGBTQ+ community is just a marketing scheme.  The ill-intended showings of support that the students refer to are called "rainbow capitalism."
 In her Harvard Business Review article, Lily Zheng poses the questions: "Does a rainbow logo do more harm than good?" and "How should brands show what they stand for in an authentic, meaningful, and accountable way?" Some solutions that the author suggests doesn't actually involve changing to rainbow logos for a month, or making limited edition shirts with inclusive sayings and more rainbows on them; the temporary things that will cease to exist after pride month ends.  
Instead, Zheng explains that showing pure intentions can be supporting LGBTQ+ creators, users, partners, etc., uplifting their causes and highlighting their work.  It can be creating new policies and processes to better the working conditions/experience of queer employees, such as trans health care benefits.  It can be investments, donations, and partnerships to LGBTQ+ communities and causes.  And it should be using the power and influence of the company to advocate on behalf of the LGBTQ+ community all year round, not just the 30 days of June.