HOT 97 Summer Jam Fest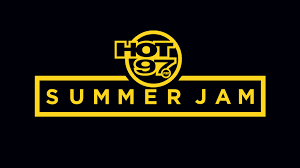 As COVID-19 restrictions decrease and the weather becomes warmer, music festivals are making a comeback.  The HOT 97 Summer Jam Festival will be taking place at MetLife Stadium on Sunday, Jun. 12 and will be featuring many popular artists and rappers.  Musicians such as Lil Baby, Fivio Foreign, and Roddy Rich are just some names on the list for one of the biggest music events of the year. 
MetLife Stadium in East Rutherford, New Jersey, home of the New York Jets and New York Giants, has been hosting the Hot 97 Summer Jam Festival consistently for over 20 years. 
"As a big fan of all kinds of music, I wish I could go to this music festival. Over the years, it has helped to establish the careers of so many artists that I love," said freshman Sarah Germana. 
Headliners of the festival in past years have been Cardi B, Kendrick Lamar, and ASAP Rocky, all of which have won many awards over the course of their careers for their music.  The festival begins at 6:30 p.m. on Jun. 12 and ticket prices range from  $40 to $1,000, depending on the location of the seats. 
The HOT 97 Summer Jam Festival's main goal is to give hip-hop and rap artists a chance to express themselves through their music, whether they are up-and-comers or veterans to the music industry.
 "We…can't wait to experience, with the fans, an extremely exciting lineup of performances from artists who are defining our culture," said TT Torez, Vice President of Artist and Label Relations for HOT 97 in an interview with the radio station's website.
HOT 97's main focus, as a radio station and YouTube channel, is to help publicize hip-hop and rap music of all kinds and from all different artists.  The company prides themselves on helping to start the careers of big stars such as Cardi B, Drake, Megan Thee Stallion, and The Weeknd.  In fact, any up-and-coming artist who wants to publicize their music can do so through their Who's Next program, and possibly hear one of their YouTube commentators react to their song in a video.  
One of the headliners, Lil Baby, released two singles on Apr. 8, titled "Right On" and "In a Minute."  These two songs debuted at 13 and 14 on the Billboard Hot 100 chart.  He has also hinted at a new album dropping sometime this summer, which would not be a surprise considering the two new releases and that he is a headliner of this festival. 
"When I first heard "Right On," it became an instant favorite that I added to all of my playlists.  I hope Lil Baby drops an album this summer, and that the songs on it will be just as good, if not better than, "Right On" and "In a Minute," said freshman Zoë Lucas. 
On the other hand, artist Roddy Rich recently released an album titled Live Life Fast, on Dec. 17, 2021.  It was a huge success, debuting at four on the Billboard Hot 100 and one on the R&B/Hip-Hop charts.  More recently, Fiveo Foreign dropped his album B.I.B.L.E., that peaked at the ninth spot on the charts.  He also recently collaborated with popular rapper Nicki Minaj on their song "We Go Up," which peaked at 58.  It is no wonder that these artists have all recently released either albums or singles, given that the goal of HOT 97 is to promote new hip-hop and R&B music.
Overall, the HOT 97 Summer Jam Festival seems like it will be a success.  With popular artists performing their new music and fans flocking to see them do just that, the event is expected to achieve the level of success that they have in past years, or maybe even more.  In the end, HOT 97 hopes that their Summer Jam Festival will reach out to aspiring R&B and hip-hop artists who are trying to make it big.