Justin Thomas comes back and holds on in a playoff to win the 2022 PGA Championship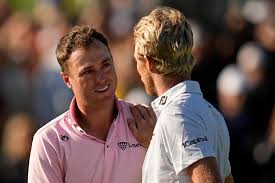 Going into the final stretch, it looked like none other than Mito Pereira was going to win the 2022 PGA championship at Southern Hills.  The young Chilean golfer was looking to win his first major, but unfortunately he was not able to hold onto his lead after blowing it on the final hole.  What makes Pereira's choke even worse was the pool money was a record breaking $15 million, meaning first place would get a huge chunk of it.
The end of the PGA tournament was a thriller that  resulted in a playoff between Justin Thomas and Will Zalatoris, who was the runner up in his major debut at the 2021 Masters at Augusta National.  In his seven major championships, he finished within the top ten, five out of seven of those times.  
"I like Will Zalatoris.  He always stays cool, calm, and collected, and even though he didn't pull off the win in the playoff or in the masters, he still has a lot of talent and will definitely win a major championship soon," said junior Sean Mondschein.
 Justin Thomas did overcome Will Zalatoris to pull off one of the greatest comebacks in the history of golf by a three under in round four after a disappointing round three in which he shot a four over par.  The former Alabama Crimson Tide golfer forced a playoff against Zaltoris and emerged victorious.  Thomas was resilient and didn't look backwards, which helped him seal his second victory in a Major tournament.  
"Justin Thomas has always been one of my favorite players to watch and I'm glad he represents America in the Ryder Cup because he has always been a fierce competitor, and this proves it," said junior Reed Paltrow.
Justin Thomas didn't stay quiet after his amazing comeback victory at Southern Hills.  The PGA Champion had something to say about the feud between Crimson Tide football coach Nick Saban and Texas A&M coach and former assistant to Saban at LSU, Jimbo Fisher.  Nick Saban said that Jimbo Fisher bought every player in his recruiting class with the new NIL rule to which Fisher responded that A&M never bought any players.  During an interview with SiriusXM, Thomas was asked if he follows Nick Saban's 24-hour celebration rule, which is moving on from the thrill of victory after a day in which JT threw shade at Fisher.
"Yeah, I got a 24-hour rule.  I'm not sure what Jimbo Fisher's rule is, but I guess he's gotta win something first before he figures out his rules," said Thomas, who is quite the character.  Golf fans across the nation are happy to see a trophy in his hands.
"It's cool to see these big names staying true to their college roots especially because I will be going to college in a year so I like seeing the importance of school pride," said junior Ryan Epstein.
The matchup between Zalatoris and Thomas will go on for years to come as they are part of the future of the sport of golf.  This PGA Championship was exciting for all to watch and fans are at the edge of their seats waiting to see if Zalatoris can win the next major tournament, the