Schreiber seniors serve delicious dishes through blogs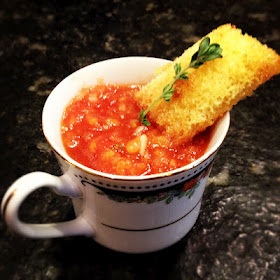 The teenage diet is infamous for consisting of every type of junk food imaginable. Schreiber kids are like human vacuum cleaners, consuming Cheetos and half-and-halfs at alarming rates. Since high school is a really stressful time, given the multitude of after-school activities and late nights filled with studying, we grab whatever food is convenient.
Lets be honest, who wants to cook a healthy meal at 3 a.m. when there is a box of Twinkies sitting in the cabinet? The kitchen just seems so far away and cooking would actually involve some effort. Nevertheless, Schreiber's graduating class has proved that the teenage palate is becoming more sophisticated.
Cooking used to be considered a hobby for your grandmother or maybe your weird aunt, but now home chefs are getting younger. With celebrity cooks like Jamie Oliver and Alex Guarnashchelli becoming household names among the younger generation, this trend comes as no surprise.
Along with this new awareness of the culinary world, teen foodies are sharing their passion for cooking with others via the Internet. Schreiber students are no exception to this trend. Four seniors: Brendan Weintraub, Genevieve Bellon, Hana Seligman and Ava Selbach, have taken it upon themselves to start food blogs of their own. Through the Internet they are able to document their daily food adventures with fellow students and give a tip or two to less-experienced peers.
Weintraub's Words to Eat By
Senior Brendan Weintraub has been cooking since before he could see over the countertop. Although he credits his mom for giving him the initial passion for cooking, Brendan's strongest initial force was from celebrity chef Lidia Bastianich. "One day I watched Lidia Bastianich and thought to myself 'I really want to cook like that.' So, Lidia was my initial driving force as to why I wanted to cook and now I watch the Food Network religiously," said Weintraub.
His other celebrity chef influences include Bobby Flay, Ina Garten, and Giada de Laurentiis. These influences are definitely noticeable in his blog which covers a variety of different foods. Ranging from red velvet cake to shepherd's pie, Weintraub's Words to Eat By has a heavy concentration on Italian and French techniques. "I blog about these because they're my favorite things to eat," said Weintraub.
Although he gets inspiration from many famous chefs, Brendan's recipes are all his own. To an inexperienced chef, many of Brendan's dishes might seem overwhelming, but he assures his readers that all of the recipes are easy to make and are teen-friendly.
Brendan originally started the blog as a sample for The Schreiber Times, and therefore, created it for Schreiber students.
"In general, my posts are directed toward high schoolers, chiefly because I think that most students do not know how or want to learn how to cook. And I think cooking is a very important skill to learn how to do—even if it is scrambling a few eggs."
You can check out Brendan's blog at: www.weintraubswordstoeatby.blogspot.com
Forty-Nine Chestnut
After just a few minutes reading senior Genevieve Bellon's blog you get the feeling that it was made by someone who really has a passion for cooking and wants to share it with others. Her love for food stemmed from helping her mother, aunt, and grandmother in the kitchen.
"All three of them have shown me not only how to cook, but how to enjoy a delicious meal with family and friends. To me, this is the sole reason why I cook," said Bellon.
Genevieve Bellon, unlike Weintraub, does not stick to one particular food style, allowing the reader to sample food from many different cultures and styles.
The foods range from New York style pizza to Irish soda bread to cheesecake. In addition, Forty-Nine Chestnut is definitely a blog to check out for students who love to bake since Bellon provides for every special occasion and holiday.
All the recipes are achievable for any novice chef willing to learn. The step-by-step instructions with pictures to go along allow for recipes that are easy to follow. Forty-Nine Chestnut is infused with Bellon's character.
"I definitely try to emulate other blogs I read by including some personality in my blog, whether it be the baby pictures on my About Me page, or the stories I include before each recipe" said Bellon.
Check out Genevieve's blog at: www.fortyninechestnut.blogspot.com
Foods R Us
Two years ago, two seniors, Hana Seligman and Ava Selbach, created their food blog to showcase the foods they loved to cook. Ava Selbach, an AP Photo student here at Schreiber, makes use of both her cooking and her photography talents through her blog.
"I started a food blog because I blog and thought I should make a separate place for the people I know to look at different recipes," said Seligman.
If you are searching for exotic foods from a culture that might be unfamiliar, check out this fantastic blog.
"For the longest time, Hana and I would salivate for hours over the food photos we found on the Internet. Whenever we would hang out together, we were either baking, eating, or reaming about baking and eating! As a result, we decided to make the blog to show others what we were doing and to keep track of the recipes for future cooking endeavors," said Selbach.
Some of the dishes include Greek style Quinoa, Indian chicken tikka masala and even a good ol' mac and cheese. There is a recipe to fit every palate, so you will not be disappointed.
"I learned to cook primarily from my mom. Once I started to cook on my own, I realized how much I enjoy creative meals with my friends. It is a really exciting hobby and it makes me happy to cook with all of my friends," said Seligman.
The recipes are easy to follow because, as Food R Us states, "they are a collection of simple recipes created and adapted for teenagers, by teenagers." Both chefs commented on the accesibility of food for teenagers, especially in the presence of the food blog epidemic.
Check out Hana and Ava's blog at: www.foodsrus.tumblr.com