Male Athlete of the Month: James Gallagher—Cross Country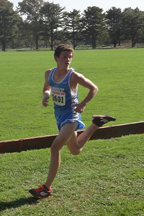 Senior James Gallagher has been a part of the cross country team for five years, and his accomplishments speak for themselves.  Gallagher earned a trip to the state meet during his freshman year— something few students have ever done— and came in third with his team.  Additionally, he has participated in the Federation, a regional race, and has been named All-Conference twice and All-Division once.
"Gallagher is always smiling," said Cross Country Coach Mr. Jeremy Klaff.  "He is always having a good time, even though the workouts are very difficult. He always makes the best of every situation.  He doesn't let the stress of everyday life get to him, and he kind of brushes off adversity, and becomes a champion."
"Every year, I've aspired to be a part of the top five runners on the team, and basically every season, besides freshman year, I did that," said Gallagher.  "This year, my number one goal is go to states again, because we didn't get there last year.  But, time-wise, I would like to finish in under 17 minutes in the 5K this year."
During his freshman year, Gallagher ranked sixth on the team.  Gallagher understands what is necessary to accomplish his goals.
"He's been working hard this year more so than any other year, so I think he's focused to do his best in his final year here at Schreiber," said Mr. Klaff.
On Oct. 20, the cross country team came in second place, losing only to Chaminade.  The team expected this, as the first seed runner, senior Sid Kakkar, was not able to run in the meet.
While Gallagher can be considered a role model for the other athletes at Schreiber, his own role model is Olympian Usain Bolt, world record holder for both the 100m and 400m sprints.
Asked about Gallagher's role model, Mr. Klaff said, "Based upon what he eats before his workouts, I'd say it's the Burger King."