Intel corporation announces three Schreiber semifinalists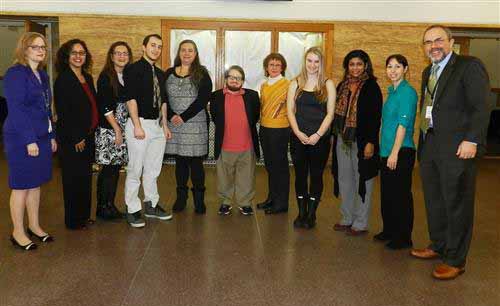 This year, three seniors, Dillon Drukker, Harry Paul and Simon Shapiro, were distinguished as semifinalists in the Intel Science Talent Search competition and will each receive a $1,000 prize.  Annually, the Intel STS recognizes 300 students as semifinalists. Out of that pool, 40 are then chosen as finalists.  To students who make it to the semi-finals and beyond, the Intel Cooperation distributes a total of $1.25 million in awards.
Drukker, a student in the social science research program, conducted research under the guidance of Dr. Kathleen Miller at the University Buffalo Research Institute on Addiction.  Her project was called, "The Correlation Between Energy Drink Consumption and Substance Use and the Demography of Consumers."  Using data from an interuniversity consortium for political and social research (icpsr) database, Drukker ran regression analyses correlating an energy-drinking variable to each of the substance use variables. She found a positive correlation between energy drink usage and substance abuse.
"I always wanted to do a project involving addiction because I have seen how negatively it can affect lives," said Drukker.  "I think that addiction is something that doesn't receive enough attention in the world of science."
Paul, a science research student, worked under the guidance of Mr. Christopher B. Straight at K2M, Inc.  In his project entitled, "Growing Spine Implant and Test Method," Paul created a new surgical procedure and accompanying implants that allows for the treatment of scoliosis and the natural growth of the vertebral column.
Other researchers can use Paul's research when designing implants for the younger population.  His prototype provides scientists with a way to test any spinal implant and how it would react with the biomechanics of the growing spine.
"This was simultaneously the most difficult and yet the most rewarding experience of my life," said Paul.  "I couldn't have done it without K2M, Inc., which assisted me with funding, legal help in patenting, and in opening the door to me to use their facilities, ask questions of their talented and dedicated engineers, and perform a few manufacturing tasks."
Simon Shapiro, a math research student, conducted his research under the guidance of Mr. Ashish Raj, the co-director of the IDEAL lab in the Radiology Department at Weill Cornell Medical College.  His project was entitled "Preferential Genetic Expression in Regions Selectively Vulnerable to Alzheimer's Disease." Shapiro's project focused on explaining how various genes worked to produce the effects of Alzheimer's Disease commonly observed in patients.  Shapiro looked at the correlations between the causes of the disease and the indicators and genetic expression data using various databases.
Shapiro's results indicate that the disease spreads gradually through neural networks.
"I obviously spent a lot of time doing work at the lab, most of the work was on the computer, but they have some pretty hardcore supercomputers at the lab which definitely improved processing time whenever I needed to do any demanding image processing," said Shapiro.  "Writing the actual paper came naturally as a result of the research, my past years of research experience, and the guidance provided by Mrs. Gallagher."
All seniors in the school's research program are required to enter the competition, but other students who have conducted research outside of school are also able to enter.
Since 2000, Schreiber has had 70 semifinalists and six finalists.  In recent years, the number of applicants has increased and competition has stiffened.
"20 years ago when high schoolers started doing research, there were many less schools doing research programs," said science research teacher Ms. Marla Ezratty. "What's been happening is that more schools are starting more research programs, but the number of competitions and the number of spots have not changed."
The forty finalists, announced on Jan. 22, will receive an all expense paid trip to Washington D.C. in early March to compete for the final awards.