Theatres are no longer a quiet place as fans scream during A Quiet Place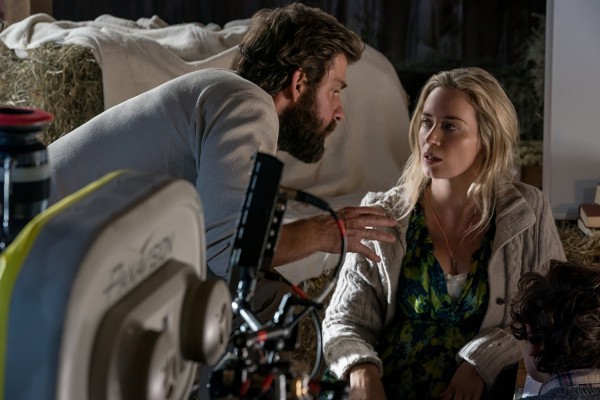 A Quiet Place, a brand-new horror film directed and starred in by John Krasinski, is a nail-biter which is sure to delight those who enjoy movies on the edge.  The film takes place in the year 2020, when the human population has been demolished by extra-terrestrial creatures.  These sightless but powerful creatures have a heightened sense of hearing which allows them to attack any person or animal that makes noise. 
The movie hit theaters on Apr. 6 and has been well received at the box office.  Emily Blunt, who is Krasinski's wife off-screen, plays the mother of three young children.  One of the daughters is deaf and requires the family to speak only in American Sign Language.  In order to avoid the predatory creatures, they must move almost silently through the town to find the supplies and medications that they need. 
The main character, Evelyn Abbott (Emily Blunt), is pregnant and is painfully of the fact that when she is ready to give birth, she will not be able to remain quiet. 
"I was experiencing a lot of the things the father was experiencing in the movie: 'Can I keep this girl safe? Am I a good enough person to be her father?' This felt like the most personal movie I've ever made," said Krasinski in an interview to USA Today.
This film is different from most typical horror films because it involves an everyday family attempting to escape from extraterrestrial beings on earth. It does not take place in the far future, but just a few years from now, which makes A Quiet Place all the more thrilling and realistic. 
There is very little dialogue because everyone must remain silent, so the film relies on visual components to get its message across to viewers. The tension in the movie builds on the fact that the slightest noise could at any moment arouse the creatures and cause the deaths of all family members. 
"I am excited to see what seems like a very thrilling movie and it makes me wonder if something like this will ever happen to our society," said senior Sierra Robinson.
Horror movies have long been a favorite of moviegoers, but this film seems to combine a chilling theme with a more sophisticated manner and tone. It will be interesting to see how well it does in theaters and how critics will ultimately view it.