Track team continues its success at Penn Relays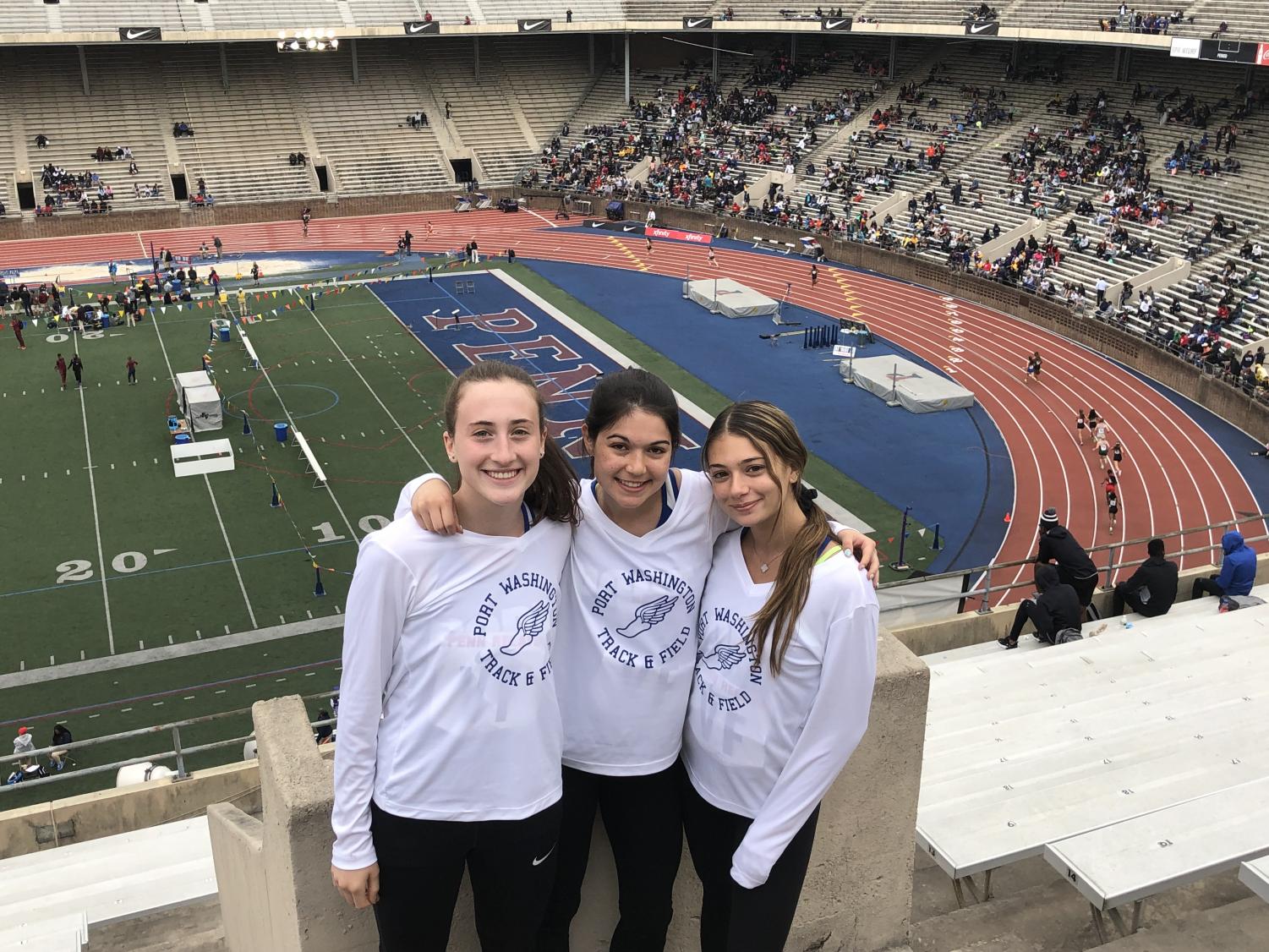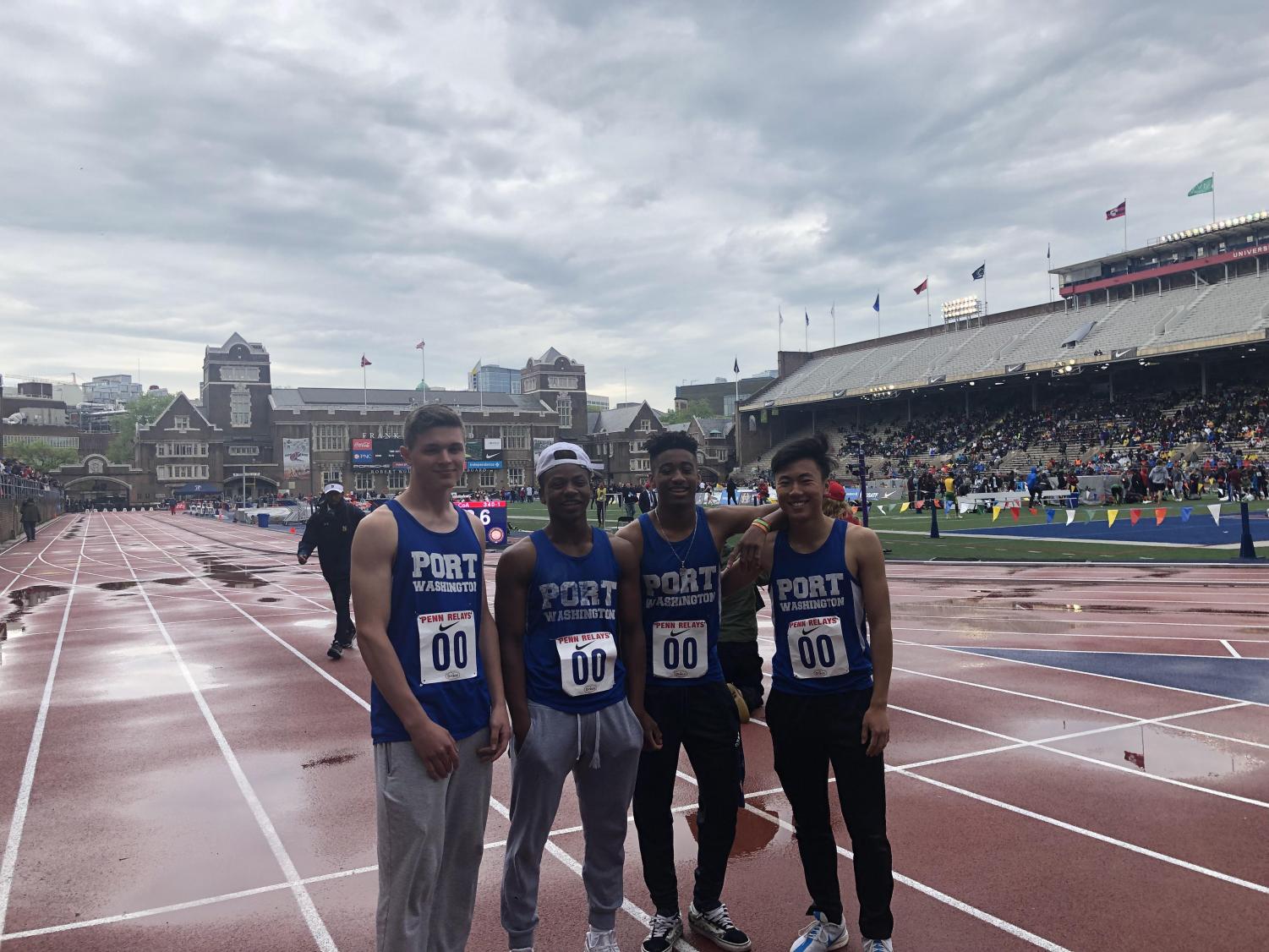 High school athletics are only the beginning for select athletes who compete at Schreiber High School.  Many of these athletes can be found in track and field, consistently going above and beyond to achieve tremendous goals. The Penn Relays is one way for these athletes to compete at an elite level, against the best of the best in what they do.
The Penn Relays is the oldest and largest track and field competition in the United States, having been hosted annually since April 21, 1895.  The University of Pennsylvania at Franklin Field in Philadelphia hosts the event for all the athletes.  
A unique aspect of the competition is how it is not exclusive to the United States, boasting several teams from many islands in Central America, such as Jamaica and the Bahamas, who have many talented athletes.  Furthermore, a few teams from Africa even attend the event to compete in the professional races available.  To add on to the extensive list of events going on at Penn Relays, the event is not exclusive to high school athletes.  At this intense competition, athletes from both college and the high school level attend.   
The event is held over the course of multiple days, with races spread out between a long weekend period.  Between the girls and boys teams, a total of four races competed with Schreiber athletes amongst its midst.  
Considering the selectivity of the event one may pose the question, how do athletes qualify? Well, in order to qualify, there is a certain time that each individual athlete needs to run, depending on gender and distance of the race.  For example, in order for the boys relay, a run time of 3:40 in the 4×400 was needed to qualify.  The boys qualified with a time of 3:39:20.  This is a remarkable time that the star-studded Schreiber boys' team was able to accomplish.  The boys squad consists of juniors Taiki Hirooka, Tyler Streim, Chris Bradberry and sophomore Daron Proctor.  Unfortunately, Streim could not participate in the 4×400 race due to a torn hamstring causing Oliver Malena-Perez, a sophomore, to run in his place. 
The boys also qualified and competed in the 4×100 meter race.  Here, they placed eighth in their heat and 74th overall with a time of 45.31.  In the 4×400 meter race, the team placed tenth overall with a score of 3:47.03.  Mateo Torres, a sophomore, also competed for Schreiber in this race, running a 56.08, while Hirooka ran a 56.87. Bradberry ran a 55.88 and Malera-Perez ran a 58.22. The boys coach, Arnold Donado, has constantly pushed the boys all season to be able to compete to the best of their ability. 
As a sophomore, it was Proctor's first time at the Penn Relays.  
"It was very different from our regular competitions.  I loved the adversity about it.  It was a great learning experience for me and my teammates.  A day at the Penn Relays is filled with a whole bunch of relays from different states and countries.  It was amazing being around so much talent and watching colleges and other countries run," said Proctor.
The athletes gain a lot of experience being at a large event such as the Penn Relays which prepare them if they want to continue their athletic careers in college. 
"Penn is always a lot of fun because it's not just high school teams that go.  You get to watch Olympians and pros," said Hirooka. 
Penn Relays is incredibly unique and special, as it gives athletes at the high school level a chance to compete, yet also allows them to grow in watching professional athletes compete. Hirooka has had a remarkable season for the Boys Track team, his most recent accomplishment being one for the books as he broke Schreiber's 100m school record time.  Although he is just a junior, he has led his team to success throughout the season and was a major component in their attendance at Penn. Overall, the boys' team completed great feats at the Penn Relays all while competing against many impressive teams from around the world. 
While the boys season was nothing short of incredible, the girls also had a phenomenal squad that sent two relay teams to compete at Penn Relays.  Seniors Brittany Nahas and Ava Gellis, along with juniors Grace Livio and Jazzy Kaypour, ran the 4×100 meter relay as Schreiber's first squad.  Gellis and Nahas also ran the 4×400 meter relay, along with senior Leah Taylor and junior Sally Hirschwerk.
When asked to talk about her experience at the Penn Relays, Kaypour explained that while the experience is a very fun one, it can also be quite stressful, as the stakes are very high.
"The 4×100 relay itself is pretty stressful because because because it's so quick and if you mess up one thing the whole race is over, but overall both relays did really well and ran the best times of the season," said Kaypour. 
Kaypour also made sure to mention a leading force behind the team's success, their coach, Jeremiah Pope.
"Pope ran track in college and played football in the NFL for the Eagles," said Kaypour.
This experience and work as an athlete may also be a contributing factor to his success with the program.
Gellis, who has competed at the Penn Relays every year she has been on the team, also had a few words to say about their coach.
"[Pope] is very dedicated and passionate with track and field and has a lot of faith in our team," said Gellis.  "He puts in so much time and effort in making us the best we could possibly be."
This training is also a key component to the girls' success and ability to perform at the Penn Relays. Speed workouts are used and combined with lifting in the weight room for an intense yet extremely effective workout.
All this training and hard work truly paid off for the girls.  At the Penn Relays, all the girls ran a season-best, truly showing off their talent and skill set.  In the 4x100m race, the girls competed in Heat Ten and came in fourth place.  In the 4x400m race, the girls placed fifth with an overall time of 4:10.20.  In this race, Hirschwerk ran a 1:03.45, Nahas ran a 1:02.11, Taylor ran a 1:03.12, and Gellis ran a 1:01.60.
Throughout the course of both of their seasons, the girls and boys track teams have grown tremendously skill-wise and in accomplishments.  The girls and boys boasted two teams each at the Penn Relays, a destination for the top runners not only all over the nation but all over the world.  Simply by making it to the Relays and placing so well, the two teams have made a name for themselves and Schreiber.