Miley Cyrus' Plastic Hearts proves she can rock any genre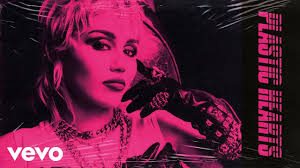 Once again, Miley Cyrus proves that her ability to conquer any genre is strong.  Starting as a young country artist on the beloved show Hannah Montana, to becoming a global pop star, Cyrus has created another new path for herself by exploring a new genre: rock.  Miley continues to grow into new versions of herself, as an icon for breaking societal norms and barriers.  Her ability to produce such a wide variety of music that appeals to all different people reveals her true talent as an artist.  Fans had high expectations for Plastic Hearts, and Miley did not disappoint.
Miley's new rock album includes some covers of older rock songs such as "Zombies" by the Cranberries and "Heart of Glass" by Blondie.  Additionally, she includes original songs such as the title single "Plastic Hearts" and "Golden G String."  Many of these center around Cyrus' recent divorce from her ex-husband Liam Hemsworth.  The album also features collaborative songs like "Prisoner" with Dua Lipa, "Bad Karma" featuring Joan Jett, and "Night Crawling" with Billy Idol.  "Plastic Hearts" is the perfect mix of old, new, and collaboration. 
"I really love how the songs in "Plastic Hearts" are all so different: there are some amazing covers, and even originals.  I also love how she collaborated with Stevie Nicks to make a mashup of 'Midnight Sky' and 'Edge of Seventeen'," said junior Emily Benson-Tyler. 
Listeners all over the world love the album, and they are hoping it will be considered for upcoming rock awards.  The album has already topped the rock charts and climbed to the number one spot.  While Plastic Hearts was released too close to the 2021 Grammys to receive a nomination, fans are hoping to see one in the future.
"I love this album.  I listen to 'Angels Like You' on repeat almost every day.  I hope it receives awards in the next year," said junior Olivia Kerrane. 
Although Miley is beloved by so many fans across the world, she also has her critics, and her latest album is not immune.  Some express the opinion that Miley is a lost artist looking for her perfect sound, and she still hasn't found it.  She is described as being caught between her old days of pop and authentic rock.  Many say country was definitely the wrong fit for her, but they're not sure if rock is either.
"Miley seems like she is having a musical identity crisis.  She keeps switching up what genre she does, and it is very difficult to develop a steady fanbase when she keeps switching it up," says junior Jae Longaro. 
These criticisms are legitimate; Miley has been making a lot of changes to her sound and the type of music she brings to her listeners.  However, her unique voice and her rule-breaking twists continue to engage her fans.  In addition, Miley's lower-than-average alto voice has never sounded more natural than it does in "Plastic Hearts."  She has found her sound. 
No one knows what the future holds for Miley and her fans, but expectations have been set high.  Plastic Hearts was Miley's latest adventure, and hopefully her next one is just as exciting.