Girls' Volleyball looks to bounce back and gain momentum entering mid-season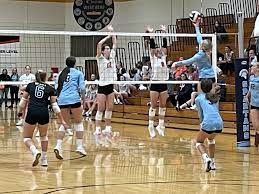 Coach Christina Bruno of the girls volleyball team had to train an almost entirely new squad this season.  With essentially most of the previous year's starting roster gone, this season is dedicated to preparing the team  to compete in their difficult division.
"After graduating ten seniors last year I would classify this season as a rebuilding year," said Coach Bruno.  
This left the starting roster open for new players to showcase their skills.  This season being her second after last year's was shortened, Coach Bruno is equally open to new players as to strengthening her relationship with returning players.
"It has been a pleasure getting to know all of the athletes from our abbreviated spring season last year as well as this year," said Coach Bruno.
The starting roster this season lists new names to the varsity team, with a majority having never played at this level.  Some new additions and returning players are junior Rachel Hegarty, sophomore Chloe Garguilo, and freshman Indi Girtz in the outside hitter position.  Juniors Sarina Scaffidi and Emily Bosworth have defended Port in the middle blocker position.  The defense consists of sophomore Julia Lassiter, junior Ally Carillo, and senior Liz Kohama, all credited with being the "backbone" of the team's defense.  Leading in passes are setters sophomores Anna Drewes and Eve Aponte.
The challenge this year is forming a bond on the court.  Being most of these girls had not yet played a season with each other or Coach Bruno, teamwork is to be an essential part in their playing this season.  The team's record so far is 0-4, after fighting vigorously but losing in straight sets to each competitor.  
"Each match that we have played so far has been a learning experience and we continue to grow and get better each match," said Coach Bruno.  
This is demonstrated by the positive attitude  of the team.  Freshman Indi Girtz is the only ninth grader on varsity, but has high hopes and is confident in her performance for the team.
"My team's mentality is to play the best we can and have fun!  Win or lose, there should always be a smile on our face," said Girtz.  
The team will face fierce competition this season from the rest of Class AA1, which incorporates the top volleyball programs in Nassau County.  In the previous season, the team went on to beat some of their competitors this year such as Syosset and Plainview JFK, whom they have unsuccessfully fallen to in the past weeks.  
Nevertheless, the team feels confident in their chances for redemption.
"The amount of potential to succeed from our full squad this year is extremely high and I am looking forward to watching each and every member grow and contribute to our team," said Coach Bruno.
The varsity girls volleyball team looks forward to their upcoming Dig Pink matches, in honor of those who have lost or continue their battle with breast cancer.  These matches will be held on Oct. 6 for the girls and Oct. 5 for the boys.  Donations are open now until the month of October.  All donations collected will go towards Dig Pink, which supports breast cancer research, treatment, and support.